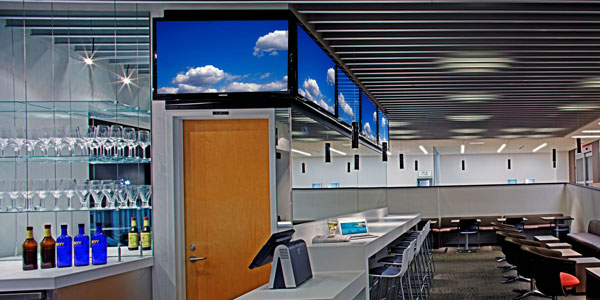 Airspace Lounge is set to open a new facility at its third location, John F. Kennedy New York International Airport, by May of this year.
The Swissport-operated lounge will be located within JFK's Terminal 5, close to Gate 24, which serves JetBlue Airways, Hawaiian Airlines and Aer Lingus.
Airspace Lounge currently has a lounge in place at Baltimore/Washington Thurgood Marshall Airport, with another set to open at Cleveland Hopkins Airport by the end of this month. Passengers wishing to use the lounge need only purchase a day pass, which grants access to the full range of services and amenities – no subscription is required.
"All passengers travelling with any of the airlines serving JFK T5 will soon be able to separate themselves from the concourse and visit Airspace Lounge to enjoy ample space to rest or work as well as complimentary food and beverage offerings," said Anthony Tangorra, President of Airspace Lounge and Senior Vice President of Lounges at Swissport. "The lounge is conveniently located post-security to serve passengers near their gates and includes everything needed for airport comfort – a relaxing atmosphere, separate restrooms and showers, and a dedicated work area – all at a reasonable price."
The lounge is set to open before the first flight of each day, closing upon the final boarding call of the last flight. Each customer will receive complimentary food and drink, as well as free WiFi and charger ports for electronic devices.