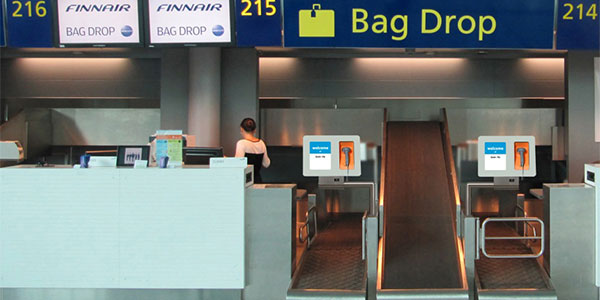 Finavia has confirmed that it will install a total of 12 Scan&Fly self-service bag drop units across Helsinki, Oulu and Turku airports following a successful trial period.
The complete self-bag drop solution will be retrofitted at the three locations, where it will be available to passengers flying with Finnair, Norwegian and SAS.
Passengers will be able to print their own bag tags at a kiosk in the check-in area, before attaching the tag and dropping the bag at a dedicated bag drop station. Type22, the company behind Scan&Fly, said Finavia and passengers will benefit from the fact that the occupation time in the check-in area is minimised, therefore increasing capacity. Scan&Fly is also currently being trialled at Geneva Airport and Paris Charles de Gaulle.
As part of the agreement, Finavia will also receive the Info&Fly product – an innovative mobile application that allows roaming agents to deliver proactive service to passengers.