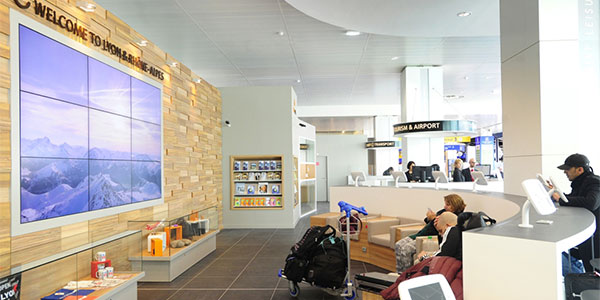 Lyon-Saint Exupéry Airport has unveiled its new Welcome Zone, which provides arriving passengers with all the information they need on the local area, transport links and nearby facilities, while also giving the airport a sense of place.
The Welcome Zone has been created by the airport in collaboration with Rhône Alpes Tourism, Only Lyon Tourism and Congress, and Rhônexpress. A number of advisors and interactive multimedia devices are on-hand to help travellers plan their trip in the Rhône Alpes region. To make it as easy as possible for passengers to find the information they need, it is divided into three areas: 'Tourism and Airport', 'Lounge' and 'Transport'.
In the Tourism and Airport area, passengers can talk to advisors about the services in the airport and surrounding area. In the Transport area, travellers can find out local transport schedules and purchase tickets, while in the Lounge area they can use tablets to find out more about the destination, and view images and videos of what the region has to offer.
Philippe Bernard, President of Aéroports de Lyon, said: "Lyon Airports has a hugely influential role in the economy of Lyon and the Rhône-Alpes region, having welcomed more than 8.5 million passengers in 2013. It is a gateway to a territory rich in business and leisure opportunities.
"This new area is remarkable, not only because of its original concept of centralising all passenger information in one place, but also because of the collaboration between the prominent project partners."