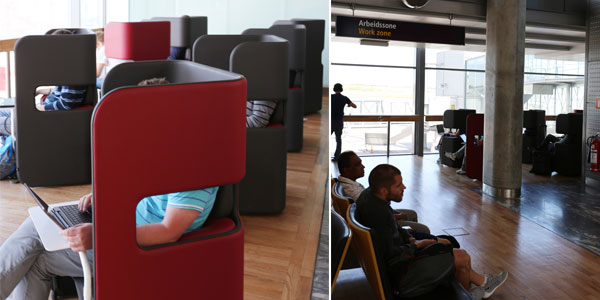 In response to demand from travellers, Oslo Airport has introduced a dedicated work zone in the international pier, which can be used by those who wish to continue working while they wait for their flight.
The work zone is equipped with chairs with individual desks, power sockets and shielding to reduce noise and increase privacy. Bar-style tables have also been installed along the windows, so passengers can enjoy views of the airfield while they work.
Oslo Airport's Joachim Andersen said: "We know there is great demand for work areas from our business travellers. We have therefore reconfigured this area to accommodate these wishes. We hope that the zone will be well received.
"This will enhance our passengers' travel experience. We are constantly working to come up with solutions in areas where we notice a demand."
Just last month, Oslo Airport also introduced interactive, self-service wayfinding kiosks, which passengers can use to find directions and estimated walking times to various points in the terminal.