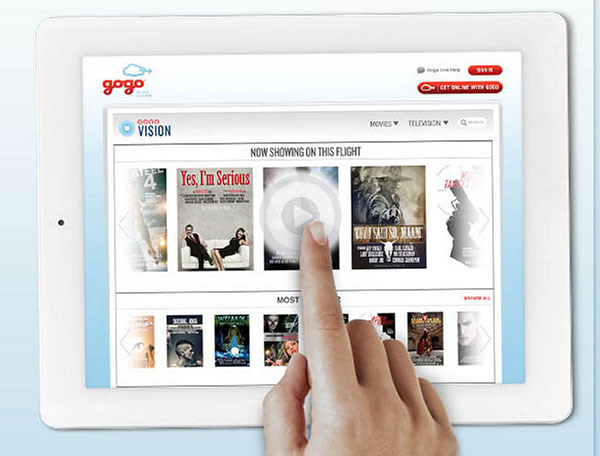 Gogo has received a supplemental type certificate (STC) from the Federal Aviation Administration (FAA) to install its Gogo Vision wireless in-flight entertainment (IFE) service as a standalone product, with or without the company's connectivity service. Previously, Gogo Vision could be installed only with Gogo's Wi-Fi service.
The company has also confirmed that some of Alaska Airlines' Gogo Vision equipped aircraft will be configured in this way, with the airline set to launch the service before the end of 2015. As we reported earlier this month, the new Delta Studio wireless IFE system from Delta Air Lines is powered by Gogo Vision. American Airlines also offers Gogo's content streaming service.
Referring to the new STC, Ash ElDifrawi, Gogo's Chief Commercial Officer, commented: "We see this as an important enhancement to the Gogo Vision product, as it allows us to provide the service without necessarily having connectivity on the aircraft. We definitely have seen demand for the standalone version of this product.
He added: "The majority of passengers today are carrying some sort of Wi-Fi enabled device on the plane. Gogo Vision leverages that trend and eliminates the need for airlines to maintain expensive seatback equipment."
At FTE Global 2014, which will take place in Las Vegas from 24-26 September, Gogo will be among the many leading industry providers exhibiting their latest passenger-focused solutions. Also, Anand Chari, Gogo's Chief Technology Officer, will be a panellist in the Cabin Integration Symposium, which will be led by Mary Kirby, Founder & Editor, Runway Girl Network.