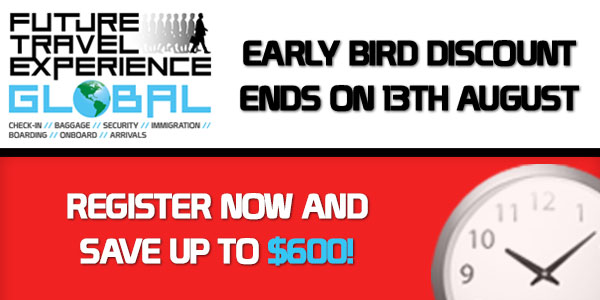 A number of the world's most innovative, passenger-focused airports and airlines have already signed up to attend FTE Global 2014, and if you're planning to join them in Las Vegas you have less than a week to make the most of the early bird discount, which ends on Wednesday 13th August.
The agenda for FTE Global 2014, which will take place from 24-26 September, is our biggest and best to date, and all delegates will be able to gain unrivalled insight from no fewer than six amazing keynotes: Disney Destinations, Microsoft, Delta Air Lines, Intel Labs, Hilton Worldwide and Norwegian.
Among the many organisations also confirmed to reveal how they are using new technology and bold thinking to improve the passenger experience, and share their visions for the future in the 'On the Ground' conference are: Vancouver Airport Authority, McCarran International Airport, American Airlines, IATA, Avinor, Aéroports de Montréal, IBM, Fast Future Research, Air France-KLM, Dubai Airports, Changi Airport Group, Virgin Atlantic, Chicago Department for Aviation, Droiders, ANA, SITA and many more.
As well as the 'On the Ground' conference, FTE Global 2014 will include the 'Up in the Air' conference stream, an extensive exhibition of the latest passenger-focused products and services, the Cabin Integration Symposium, the FTE Global Gala Party, the FTE Awards 2014, a World Cup themed Welcome Reception and guided tours of McCarran International Airport Terminal 3.
» More information on FTE Global 2014
» Register to attend FTE Global 2014