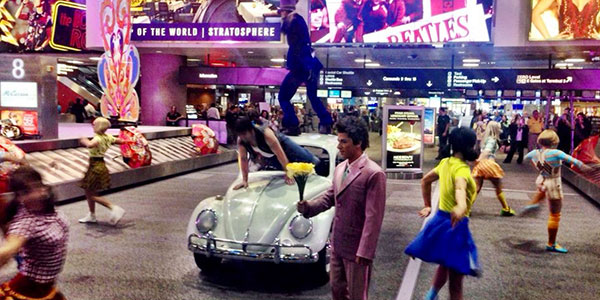 When you're on the road, or in the air, a nice surprise can go a long way to helping cheer you up, and travellers flying from San Francisco to Las Vegas last week certainly had something special waiting for them at both ends of the journey.
To celebrate the 50th anniversary of The Beatles' arrival in Las Vegas to perform two shows back in 1964, the cast of Cirque du Soleil's 'Love', a spectacular tribute to the British band, firstly put on a surprise performance for travellers waiting to depart from San Francisco International Airport.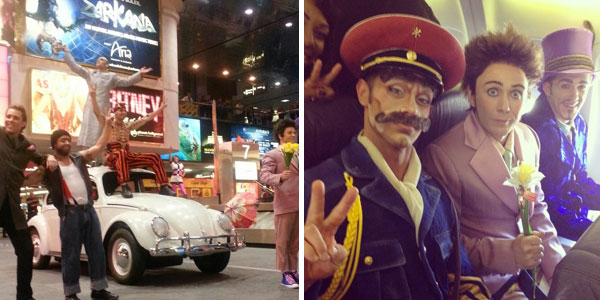 Then, after joining the performers on the Southwest Airlines flight to Las Vegas, passengers were greeted with a full-blown, three-song Cirque du Soleil performance in the Terminal 1 baggage reclaim hall complete with dancers, acrobats and even a vintage Volkswagen Beetle.
Here at FTE we're always keen to promote the value of improving the passenger experience at every step of the journey, so we commend McCarran International Airport, Southwest Airlines and Cirque du Soleil for putting on this truly unique performance that will undoubtedly have made for a memorable travel experience.
McCarran International Airport will host Future Travel Experience Global 2014, which will take place at the Mandalay Bay Resort in Las Vegas from 24-26 September. The theme of the event is: 'Redefining the end-to-end passenger experience'.
Among the organisations confirmed to speak at the event are Disney Destinations, Delta Air Lines, Microsoft, San Francisco International Airport, Intel Labs, Air France-KLM, American Airlines, JetBlue, Avinor, Changi Airport Group, IATA, United Airlines, Vancouver Airport Authority, U.S. CBP, ANA, Norwegian Air Shuttle, Dubai Airports and many more.