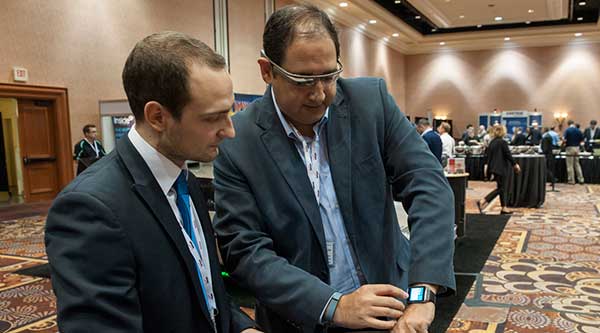 So far in 2014, wearable technology has gained real traction in the travel and transport sectors, and if there was any doubt as to its long-term potential, it was pretty much erased in the Wearable Technology Forum at FTE Global 2014 last week.
Experts from Virgin Atlantic, SITA, Droiders and Japan Airlines took to the stage in Las Vegas, and every one of them put across a solid argument supporting the case that wearables are far more than a short-term fad. From customer service use cases to bag tag scanning, and aircraft maintenance to even wearable tech-based in-flight entertainment (IFE), the myriad benefits of smartglasses and smartwatches were laid bare.
"We're developing an app to read flight, passenger and baggage tag information on Google Glass," SITA's Chief Technology Officer, Jim Peters, firstly revealed to delegates. Of course, SITA played an important role in Virgin Atlantic's FTE Award-winning trial of Google Glass at London Heathrow's Upper Class Wing earlier this year, and the carrier's Technology Innovation and Development Manager, Tim Graham, explained that "customers were a lot more accepting of wearable technology than we anticipated".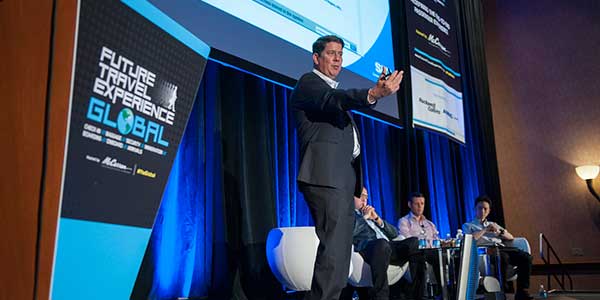 Such was the success of the pilot, Graham said a wider, permanent initiative is now planned, starting with a full rollout in the Upper Class Wing. He also promised "further trials with other devices" (although his lips were sealed when pressed further on this), and said Virgin Atlantic will investigate the use of wearables by customers, suggesting that the airline sees consumer uptake of the likes of Google Glass as a distinct possibility.
Wearable technology and IFE
Julian Beltrán, CEO of Droiders, a company that specialises in developing apps for Google Glass, agrees that there are major consumer opportunities. Droiders has already worked with Spanish carrier Iberia to use Google Glass to stream a live video of the Spanish national football team onboard an aircraft en-route to the World Cup in the summer, and while such a use may well be a novelty, Beltrán appeared adamant that wearable technology could be used for fully fledged IFE in the future.
Google Glass-type products with their small screens are probably not well suited to this kind of usage, he admitted, but devices like Oculus Rift, a virtual reality 3D headset, certainly could be. "In three years, we'll find that everyone will wear wearable technology," he added.
Japan Airlines identifies smartwatch benefits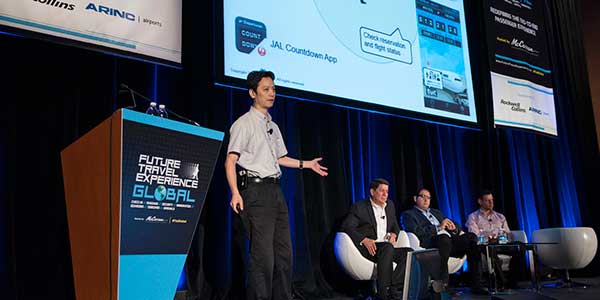 At Japan Airlines, the focus is on enterprise solutions, though, as Andrew Kenji Wang Fujiyama, Manager Planning Group Web Sales, told FTE Global delegates. Google Glass has been embraced for aircraft maintenance and loading activities, but it is the smartwatch that the airline has identified as having passenger-facing benefits. The carrier previously developed a mobile phone that could perform the same tasks as the gate terminal, Fujiyama explained, but customers were complaining that staff kept looking at their mobiles. Allowing staff to instead use smartwatches for some of these tasks, and to be pinpointed by the central control desk when need, has helped to increase productivity, and passengers are happy that the smartwatches are being used for professional, rather than personal, reasons.
Three-quarters of travellers support wearable tech usage
Aside from what we heard in the FTE Wearable Technology Forum, other recent developments also support the notion that wearable technology has an important role to play across the air transport industry. SITA's latest Passenger Survey, published this week, reports that 77% of the 6,000-plus passengers surveyed said they would be comfortable with the use of wearable technology to help them during their journey. "As more new technologies such as wearable tech…become commonplace, they present a great opportunity for airlines and airports to engage directly with their passengers to provide efficient service throughout the journey," stated Franceso Violante, CEO of SITA.
Another company that has also identified the potential of wearables is Honeywell, which has just announced that it has developed its 'Ovation Select' application for Google Glass, enabling flight attendants to use the device to control the cabin set-up and ambience.
The project was initially aimed at the business aviation space, but Honeywell clearly recognises that it can be expanded into commercial aviation, also extending beyond flight attendants to pilots and mechanics. In the above video, Justin Dye, Honeywell Senior Project Manager, talks of the potential around "pre- and post-flight, and in-flight capability for flight attendants and for passengers".
Following the FTE Wearable Technology Forum in Las Vegas, coupled with other recent developments in this area, there can be no doubting that wearable technology is not a short-term fad, but an important tool that can benefit airlines, airports and passengers in the distant future.