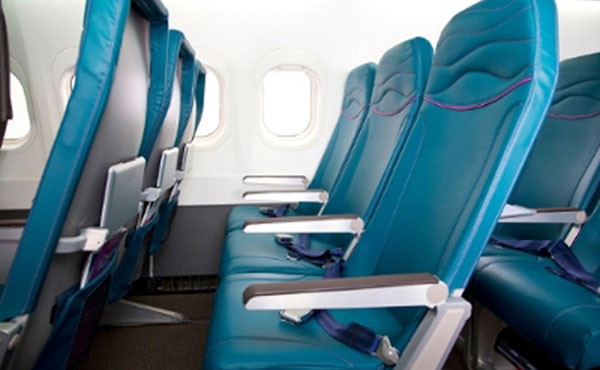 Hawaiian Airlines has completed the retrofit on the first of 18 Boeing 717 aircraft, which now boasts an island-inspired cabin interior and slimline seats. The retrofit project is being undertaken to create consistency across the fleet of 717s, which operate 20- to 60-minute flights between the state's islands.
"These new, modern design elements rejuvenate the interiors of our Boeing 717s while allowing us to deliver a consistent onboard experience for our guests," said Peter Ingram, Chief Commercial Officer, Hawaiian Airlines. "The new lightweight seats are engineered to ensure a maximum amount of personal space without compromising legroom or comfort."
The slimline seats are supplied by Acro Aircraft Seating and each seatback features a so-called "tablet table" machined from solid aluminium, sized and designed for complimentary beverage service and the use of a tablet device.
Each of the retrofitted 717s will feature an identical galley, lavatory and 128-seat configuration. Previously, the carrier has had five different cabin configurations operating on the island-hopping fleet.
The refreshed interior has also been designed to reflect the elements of the islands served by the aircraft. The carrier's entire narrow-body fleet will be retrofitted by the end of 2015.