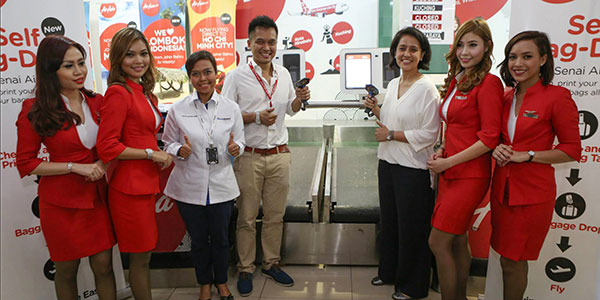 AirAsia has launched a complete self-service bag drop solution at Senai International Airport, which becomes the first airport in AirAsia's network to deploy the system.
AirAsia passengers flying from the airport in the south of Malaysia can now print their bag tags at a check-in kiosk before proceeding to the automated bag drop counter. At the counter they simply have to scan their boarding pass and bag tag using a handheld scanner and if everything is in order and the bag satisfies the carrier's size and weight criteria, it will be automatically deposited into the baggage handling system. Two Scan&Fly units from Type22 have been installed initially.
AirAsia has offered self-tagging at select locations since 2013, but passengers have still had to drop their bag at a manned bag drop counter. The new system at Senai International Airport marks the first time AirAsia passengers can complete the entire check-in and bag drop process without any assistance from an airline agent.
AirAsia Berhad CEO Aireen Omar said: "With the introduction of the complete self-service options, including the latest self bag drop feature, it takes only up to two minutes and 35 seconds to complete the whole check-in process."
Last year, AirAsia outlined to FTE its plans to embrace self-service to help simplify the passenger experience, and AirAsia Group CEO Tony Fernandes visited the FTE Asia exhibition on the day that the new self-service kiosks went live at klia2.
The very latest self-service passenger processing solutions will be among the many innovations on show at FTE Asia EXPO 2015, Asia's biggest ever passenger experience expo, which will take place in Singapore from 17-19 November 2015.