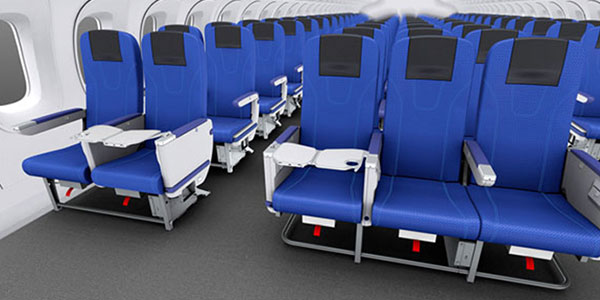 All Nippon Airways (ANA) has teamed up with Toyota Boshoku Corporation, part of the Toyota Group, to develop a new economy class seat, which the Japanese carrier will introduce on domestic aircraft in June 2015. The project marks Toyota Boshoku's first foray into the aircraft seating market.
By fiscal year 2016, Japan Airlines plans to have 1,560 of the new seats installed on a total of six Boeing 767-300s. Pitched at 31 inches, the seats will be configured 2-3-2 and offer a 17.5-inch width.
According to an official communication from ANA: "The new seat was ergonomically developed for comfort across a wide range of body sizes and types, based on Toyota Boshoku's experience designing seats for customers around the world, which included compact, luxury and racing cars."
The seat is structured to limit muscle fatigue around the hip and maintain a relaxing posture by firmly supporting the pelvis. In addition, the height, length and angle of the seat and backrest were designed to evenly distribute pressure on the body and accommodate any body structure.
ANA's investment in the new economy seats marks the latest stage of the on-going project to improve the passenger experience, which has recently seen the carrier invest in in-flight entertainment (IFE) and connectivity enhancements.