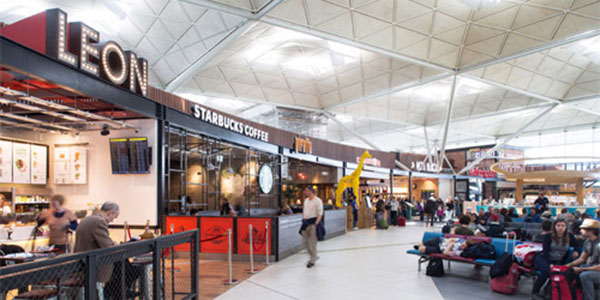 Phase 2 of London Stansted Airport's £80 million investment to improve terminal facilities and services is now complete, and brings about a number of improvements to the passenger experience.
Travellers departing from the airport can make use of 70% more seating, free Wi-Fi, mobile charging points and flight information countdown screens. The latest stage of the upgrade also includes the opening of 12 new cafes, bars and restaurants.
Charlie Cornish, Chief Executive of Manchester Airports Group (MAG), which owns and operates London Stansted Airport, said: "When MAG acquired Stansted we set a clear vision to transform the terminal and improve its facilities. Having returned the airport to growth and once again made it the fastest major growing airport in the UK with nearly 21 million passengers using the airport each year, and passenger numbers up 25% in March alone, the timing for this £80 million investment in the terminal building couldn't be better."
The investment in upgrading facilities has also seen the introduction of self-service Smart Gates, premium fast track lanes and additional automated border control e-gates, as FTE reported back in September. Having completed Phase 2 of the project, MAG is expected to announce plans for Phase 3 in the near future.