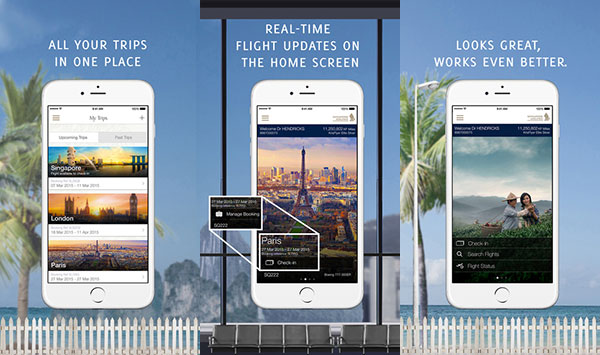 Singapore Airlines has launched new apps for Apple and Android smartphones, as well as for the new Apple Watch, with the aim of offering users a far more seamless user experience.
Among the new features is a contextual homepage that displays the most relevant information about upcoming trips, so the user doesn't have to search for the information within the app. A new 'My Trips' page has also been added, where information such as flight dates and booking references are stored, and customised images are featured to give the user a preview of what they can expect onboard their flight.
In addition, the integrated flight schedule and booking widget makes it easier for travellers to make bookings via the app and check-in for their flight, while boarding passes can now be saved in Apple's Passbook. KrisFlyer frequent flyers can also view all of their membership information.
As for the Apple Watch app, an eye-catching feature is the so-called "Glance View", which provides trip reminders and real-time information, such as when check-in counters are open, at a glance.
Singapore Airlines' Divisional Vice President Sales & Marketing, Foo Chai Woo, commented: "Singapore Airlines is continually transforming in order to stay at the forefront of airline innovation, and we are confident that our latest mobile offerings with a wide array of useful tools and convenient features will help us achieve just that."
Singapore Airlines is now working on an update to its dedicated tablet app and has just rolled out a beta version of its website as part of the investment to improve customers' digital experience.