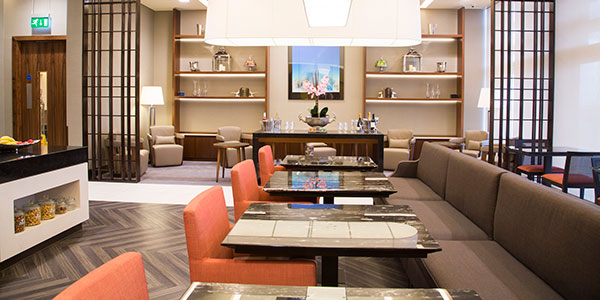 Singapore Airlines has opened its new SilverKris Lounge at Heathrow Airport's Terminal 2, which ties in with the carrier's 'home away from home' concept, which was first unveiled at Sydney Airport back in 2013 and can also be found at Hong Kong International Airport.
The lounge, designed by architectural and interior design firm ONG&ONG, has separate areas dedicated to First and Business Class customers, and hosts roam around the facility to look after guests during their stay. In the First Class section, an in-seat service is provided and guests are welcomed with a drink and a hot towel service, just as they are when they board their flight. They can make use of dining and living areas, as well as "productivity pods", where they can work in a more secluded environment.
Both First and Business Class guests have access to an art gallery and concierge service, as well as a self-service food and beverage offer, which includes a "taste of Singapore" selection. First Class customers also have an à la carte option.
Wilson Yong, General Manager Singapore Airlines UK & Ireland, said: "Our new SilverKris Lounge at Heathrow brings Ong&Ong's 'home away from home' concept to the UK and Europe for the first time. We are already renowned for providing a warm, authentic and personalised service in the air and our new London lounge will help us deliver this in new ways on the ground too.
"We believe the familiar, homely environment will be hugely well received by our customers as we provide them with comfort and the feeling of being taken care of at every step of their journey".