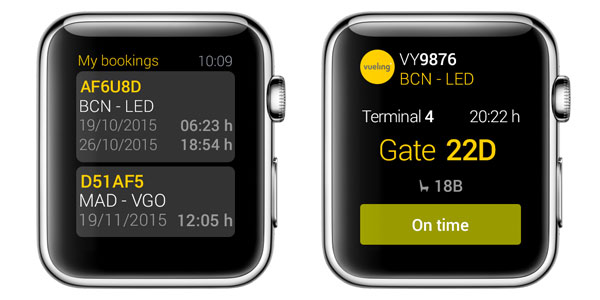 As the race to launch new apps in time for the introduction of the Apple Watch on 24 April continues, Vueling has become the latest carrier to unveil its own app, which includes a couple of innovative features.
The carrier's CEO, Alex Cruz, told FTE last year that embracing wearable technology was a "no-brainer", so Vueling's investment in an Apple Watch application is no big surprise. The new app does, however, include some innovative features. It makes use of geofencing technology to detect when the user arrives at the airport and it also includes access to the recently launched 'Bring Your Flight Forward' function, which allows passengers to switch to an earlier flight if a seat is available.
As explained by Marion Bauer, Vueling's E&M Commerce Director: "One of the most interesting aspects of this new app is it enables us to create the contextualised and personalised proposals that a passenger may need at any time during the trip."
Other key features of the Spanish low-cost carrier's Apple Watch app, which is available in seven languages, include access to the user's reservations and real-time flight updates and changes.
The development of an Apple Watch app is the latest of many recent mobile-related investments by Vueling, including the addition of credit card scanning and NFC functionality. The carrier was also the first to launch a smartwatch boarding pass for the Sony Smartwatch 2 last year.