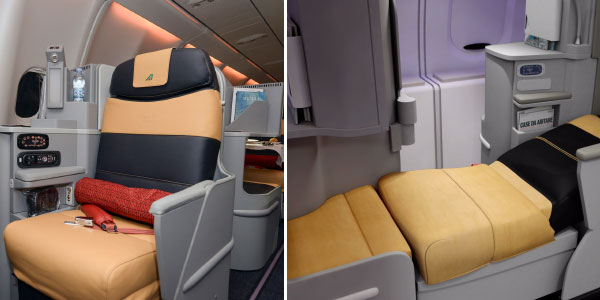 Italian flag carrier Alitalia has unveiled its new brand, new livery and upgrades across all classes on its international wide-body fleet, six months after Etihad Airways completed the acquisition of a 49% stake in the airline. The carrier has said "the new offer aims to reposition the airline as a leader in superior service, and to represent the best of Italy on the world stage".
The new Economy Class product includes extensive in-flight entertainment (IFE) and connectivity upgrades. Panasonic Avionics' GCS WiFi, LiveTV and 2G GSM connectivity, plus the eX2 IFE system will be installed on all A330 and Boeing 777 aircraft. The meal service and presentation is also being improved, with a signature Caffè service offered as standard on long-haul flights. A Frette fleece blanket and pillow will also be placed on each seat.
In Premium Economy, a theme of "connected comfort" has been embraced by the carrier. It includes a welcome aperitif, hot towel, increased meal and beverage options, and contemporary crockery and tableware. More snacks and drinks will also be available throughout the flight. Soft furnishings will be provided and free amenity kits will be offered, while night flights will include a sleep kit. Noise reduction headsets will also be offered as standard.
As for the new Business Class, the fully lie-flat seats will be accompanied by a turndown service, a bedtime beverage, and personalised wake-up calls and breakfast timings. It will also feature a "Dine Anytime" meal service and a more personalised level of service from crew. A new "Spuntino" snack menu will also be offered throughout the flight. Fine wines and tableware featuring Richard Ginori fine bona china and stylish silverware will also be introduced.
All of these new products and services will be rolled out across the wide-body fleet serving international routes between now and 1 July.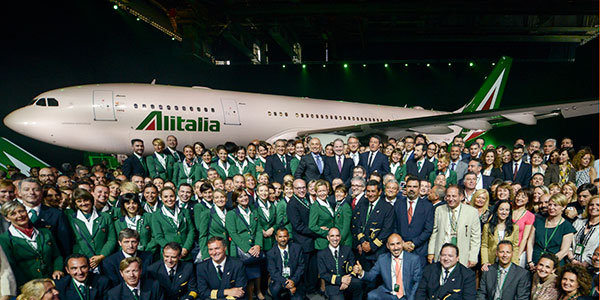 Aubrey Tiedt, Chief Customer Officer at Alitalia, who will address delegates at Future Travel Experience Global 2015 (Las Vegas, 9th-11th September), said: "We are taking the new Alitalia to greater heights, drawing inspiration from our vibrant home and the unrivalled experience garnered from almost 70 years of flying. Alitalia, like Italy itself, has a world-renowned reputation for hospitality, style and culinary excellence. This reputation is mirrored in our people and our new in-flight service design.
"The new Alitalia is about building loyalty and trust with our guests, offering more choice, innovation, quality, and importantly, more personal control over how they relax, dine and are entertained onboard. This new customer focus by our dedicated people will be evident at the airports we serve around the world, at check-in, in our lounges, through to the boarding experience."
As part of the extensive overhaul of the Alitalia brand, Alitalia cabin crew, ground staff and lounge staff are currently attending customer excellence workshops at Etihad Airways' headquarters in Abu Dhabi, which will be covered in detail in Tiedt's presentation at FTE Global 2015.