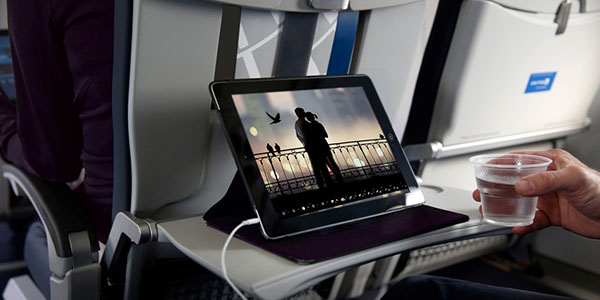 United Airlines is further expanding its wireless in-flight entertainment (IFE) offer with the expansion of its "United Private Screening" service on United Express regional jets.
Wireless IFE is already available on more than 200 of United's aircraft, and the latest rollout covers more than 120 E170, E175 and CRJ700 regional jets. The carrier plans to have all of these aircraft equipped with the wireless IFE system this month. United says it intends to eventually offer wireless IFE on more than 650 of its mainline and regional aircraft.
United has also expanded the amount of HBO content available on board, and has partnered with Vevo to offer hundreds of music videos and concert performances, which can be streamed for free. This content is also available on the carrier's seatback IFE screens.
Scott Wilson, United's Vice President of Merchandising and eCommerce, said: "Whether they travel for business or pleasure, we're designing United Private Screening to ensure our customers have access to content that is entertaining, interesting, wide-ranging and relaxing.
"Our ongoing expansion of personal device entertainment and the additional HBO and Vevo content provide our customers more in-flight entertainment choices than ever before."