Amazingly, we are about to be living in the future! In 1989 "Back To The Future II" gave the world its first glimpse of 2015, when Marty McFly and Doc Brown used their DeLorean time machine to travel to 21 October 2015.
26 years ago those filmmakers did a pretty amazing job of imagining what the technology of 2015 might be, and how it might be utilised in day to day life. But how many of the technologies predicted in the film have made it into the air transport industry today? Let's have a look:
1: Video calling: InfoGates at Munich Airport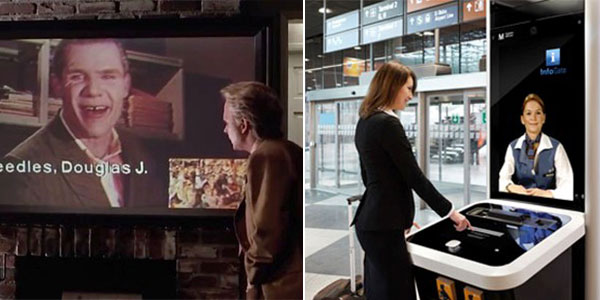 Many of us use Skype or Facetime every day and we are starting to see its application in use in airports from a customer service perspective, such as the InfoGates at Munich Airport seen here.
2: Flat screen televisions & OLED flexible screens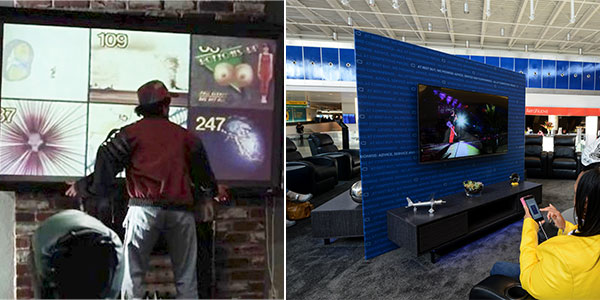 We now see 4K displays in many airports to show flight information, promotions and even with embedded facial recognition technologies to gauge passenger happiness, plus 8K is under consideration for IFE (we've seen it recently and it looks amazing). The film also predicted OLED flexible screen technology, which we expect to be utilised in an IFE capacity, sooner rather than later.
3: Wearable Tech: The film certainly got this one right!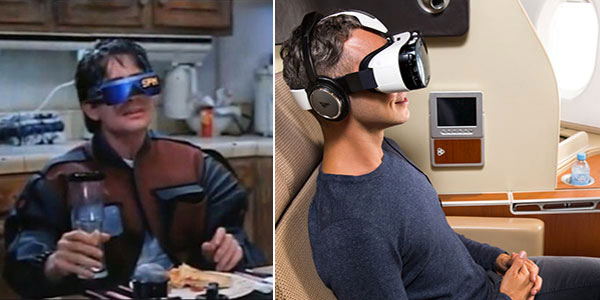 Thanks to Google Glass and Oculus Rift we are now very familiar with such technology. We have of course seen these used in airports by Virgin Atlantic, and on board planes in trials by Spring Airlines, Qantas and Iberia.
4: Fingerprint recognition – from Apple to Alaska Airlines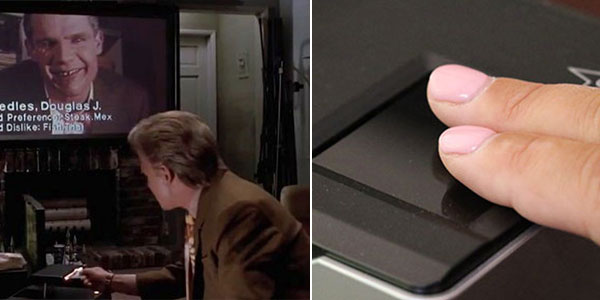 Biometrics is really making its way into the passenger experience with Alaska Airlines trialling biometric fingerprint boarding, and many believing that facial recognition will be the key to facilitating a single token travel process in the future, like that being rolled out in Aruba right now. As a continuation of that we have also seen a vision where biometrics is used onboard to recognise the passenger, and bring up their IFE content preferences.
5: Tablets – where don't we use them?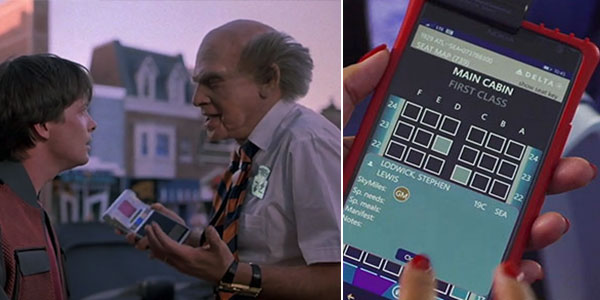 The film couldn't have been closer to getting this one right, although the one in this image isn't quite as sleek in design as the iPad! Tablets have become central in travel in many ways, from crew utilising them to offer a more personalised and seamless service onboard, through to agents using them at the airport to queue bust and help solve disruption situations. It feels like tablets have been here forever, but they came out of nowhere back in 2010 when we didn't even know we needed them!
Hoverboards: "There's no such thing as impossible"
Now this isn't the kind of travel product we usually focus on, but what kind of job would we be doing if we didn't mention something which we all dreamed of riding one day after seeing the film!
And amazingly that day might be sooner than we think. A few months back Lexus Labs released this video, which is 100% real – we've no idea how they did it, although the Lexus Chief Engineer says modestly: "There's no such thing as impossible – it's just a matter of figuring out how".
Back To The Future (post-21 October 2015)
So, this was a bit of fun, and a nice way to reminisce on my childhood with some great film scenes which inspired me to be a travel tech obsessive. But we also wanted to highlight this today because here in 2015 we now have a similar challenge to those 1989 filmmakers who had to predict the tech of the future.
Just like Marty McFly and Doc Brown, the FTE community of airlines, airports and solution and service providers needs to be continually reinventing and innovating – we have to work out how technology and consumer needs will evolve in the next 20 years and how we should be adapting as businesses, and as an industry, to put ourselves in the best possible position to thrive, and deliver customer experiences that continually get better and better.
We hope our shows and website continue to play an invaluable part in your efforts as you develop your next strategies, and wish you a successful journey as you start accelerating towards 88mph!
Daniel Coleman, Founder, Future Travel Experience