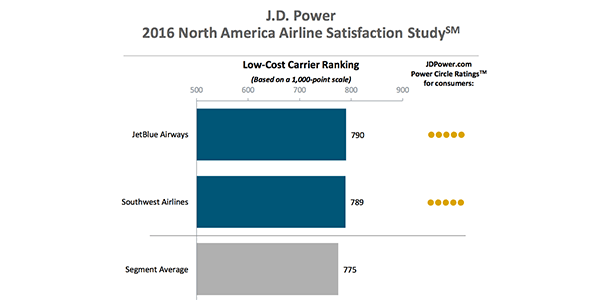 The annual North America Airline Satisfaction Study by J.D. Power has been released and shows that overall satisfaction with the airline industry has increased by nine points to 726 (out of 1,000), which is the highest score since the implementation of the current methodology in 2006. Year-on-year passenger satisfaction with traditional carriers has risen by 12 points to an average of 703, with low-cost carriers achieving a nine-point increase to 775.
The study measures passenger satisfaction with North American airlines based on performance in seven areas, in order of importance: cost and fees; in-flight services; boarding/deplaning/baggage; flight crew; aircraft; check-in; and reservation.
Alaska Airlines (751 points) ranks the highest in the traditional carrier segment for the ninth year in a row, while JetBlue (790 points) ranks highest among low-cost carriers for an eleventh consecutive year, despite an 11-point decrease on 2015.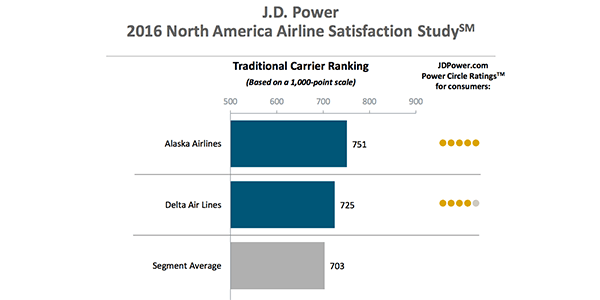 Rick Garlick, Global Travel and Hospitality Practice Lead at J.D. Power, said: "While the perception of the airline experience still has a lot of room for improvement, there is notable progress in terms of satisfaction among the highest-ranked airlines in the study due to their keen focus on meeting or exceeding passenger needs. The airlines are clearly listening to their passengers and are taking action.
"As a result, we see satisfaction rising across all touch points of the passenger experience. Airlines are making positive strides by adding value to its products and services with newer and cleaner planes, better in-flight services, improving on-time arrivals and bumping fewer passengers from their flights. For airlines ranking below the study average, investing in product and service improvements now may reap big rewards in the future when it comes to retention, reputation and share of wallet."
Among the key findings from the J.D. Power 2016 North America Airline Satisfaction Study is that customers appear to be more tolerant of costs and fees, including ancillary fees such as baggage charges. Satisfaction in this area increased by 12 points to 658. Also, it is interesting to note that for the first time in the study's history, satisfaction among business travellers (733 points) exceeds that among leisure travellers (725 points).
Despite a 12-point year-on-year increase, in-flight service remains the lowest-scoring factor overall (650 points), highlighting the fact that carriers still have work to do to ensure onboard service levels satisfy increasing passenger expectations.