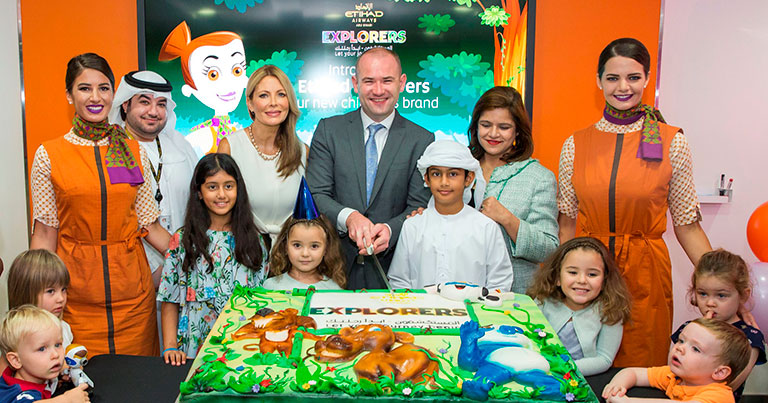 As a way to offer young passengers an enjoyable in-flight experience, Etihad Airways has launched a new range of activity packs.
The new 'Etihad Explorers' kits, created by Milk Jnr's & Kidworks, were launched at an Etihad tea party at the Innovation Training Academy. They are available on flights to and from Abu Dhabi. For the former, there are activity bags for three to eight-year-olds, which feature card games, booklets, crayons and more. The latter includes board games, postcards and a waterproof travel wallet.
There are also packs for nine to 13-year-olds, which feature puzzle games and an Abu Dhabi themed pencil case with a selection of stationery. They can also access the 'Just 4 Kids' section of the E-BOX IFE system, where they will find child-friendly films, TV shows and music.
For long-haul flights, Etihad says it also wants to help both adults and children enjoy the flight with its 'Flying Nanny' service. The Flying Nannies were first introduced in September 2013 as a way to entertain children while their parents relax. The new Flying Nanny Kit aims to improve the interaction between the nanny and child, and features games and other activities, including tools for magic tricks and face painting.
Calum Laming, Etihad Airways' Vice President Guest Experience, said: "We understand that flying as a family can often prove daunting for parents and children alike, especially when travelling long-haul. That's why we're continually looking for new ways to develop family-friendly products, like the new children's activity packs, so everyone can be fully entertained from the moment they board.
"This is just a part of our wider efforts to provide enhanced service and hospitality to our valued family flyers, an effort which is also brought to life by our amazing Flying Nannies. The new kits will help these talented crew members with the tools they need to provide our young guests, and ultimately their parents, with a truly memorable flight."