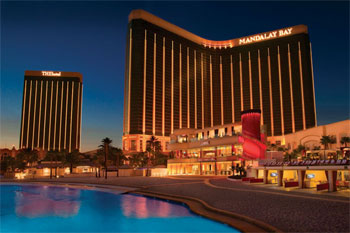 24-26 September 2014, The Mandalay Bay Resort,
Las Vegas
Las Vegas is the largest city in the U.S. state of Nevada. Nicknamed the Entertainment Capital of the World, it is situated in the Mojave Desert of Southern Nevada. The city features many mega-hotel/casino complexes decorated with lavish care and attention to detail, creating a fantasy-like environment. Exceptional cuisine, first-class hotels and outstanding facilities are just some of the things that will make the Las Vegas experience unforgettable for delegates.
Venue
The Mandalay Bay Resort and Casino in Las Vegas is the venue of this year's FTE Global Conference & Exhibition, and offers unmatched luxury, fine dining, renowned entertainment, personal service and gaming excitement.
Luxury Accommodation included at the Mandalay Bay Resort
Two nights accommodation at the Mandalay Bay is included within the FTE Global 2014 registration price.
Visa for entry into the United States
As an attendee of Future Travel Experience 2014 please note, the United States have been operating since 2010 the Visa Waiver Program whereby requirements for travelling visa-free have been enhanced. Nationals of Visa Waiver Program countries will still be eligible to travel without a visa but will have to obtain an approved travel authorization prior to their travel to the United States.
The Department of Homeland Security and the United States Customs and Border Protection have provided a secure public website with an automated form for you, or a third party, to complete in order to apply for a travel authorisation. Once you enter the required information on the secure website, your application is processed by the system to determine if you are eligible to travel to the United States under the Visa Waiver Program without a visa. The system will provide you with an automated response, and prior to boarding, a carrier will electronically verify with the United States Customs and Border Protection that you have an approved travel authorization on file.
Please complete your ESTA application at least 72 hours prior to departure to avoid inconvenience at the airport and to allow sufficient time to apply for a full Visa should your Visa waiver not be authorised.
To apply for your ESTA or for more information please visit: https://esta.cbp.dhs.gov/esta/