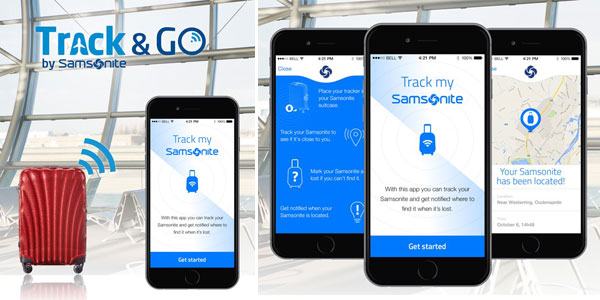 Recent technological advancements have created opportunities for airlines and passengers to more closely track luggage at every stage of the journey, and Samsonite has now announced the introduction of its own "Track&Go" technology.
The Bluetooth beacon device will be built into Samsonite suitcases, enabling the owner to track their luggage via the Travlr by Samsonite smartphone app. The beacon will use Eddystone Ephemeral Identifiers (EIDs), an open privacy/security protocol by Google. Samsonite says it hopes to launch the first suitcases featuring Track&Go technology in the European market by the end of 2016. It will then explore a possible rollout beyond Europe.
Ramesh Tainwala, CEO of Samsonite, said: "We're excited to work with Google on this project to make sure that our beacons support Eddystone EIDs. Missing or permanently lost luggage is the nightmare of every traveller…we wanted to find a way to make this issue a thing of the past.
"As Samsonite is known for its innovative and reliable luggage and bags, we also wanted to work with an equally innovative and reliable technology partner. By leveraging Google's robust, secure and crossplatform approach, we feel confident that our customers will welcome this new solution."
If a passenger buys a suitcase featuring a Track&Go beacon, they will have to register it through the Travlr by Samsonite app. They will then be able to use the app to check the location of the suitcase within a distance of 70 metres and will be notified if the bag is being moved closer or further away from them. Should the suitcase go missing, the owner will be able to flag it as lost via the app. If anyone else using the Travlr by Samsonite app passes within 70 metres of the suitcase, an EID-based signal is picked up, triggering a notification with location and time details to be sent to the owner of the suitcase. The more people that have the app installed, the more chance of misrouted or lost bags being quickly recovered.
Samsonsite says it now aims to "collaborate with airports and baggage handling companies to grow the network of fixed Bluetooth beacons in the vicinity of important travel hubs".