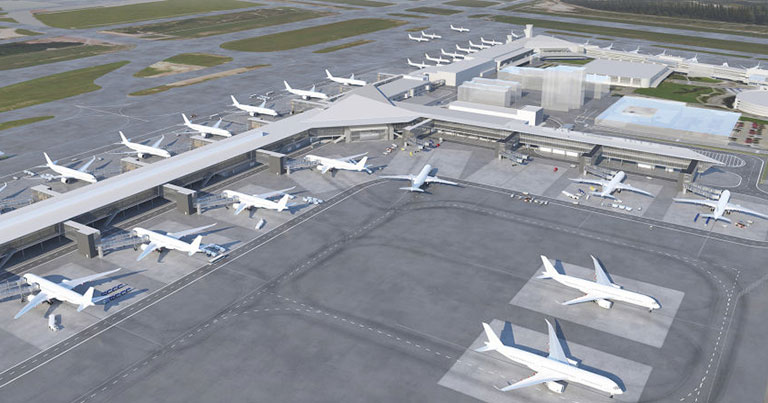 Construction is now underway on the west wing at Helsinki Airport, as part of a significant investment by Finavia.
The Finnish operator is investing €900 million to expand the airport, and the enhancements to the west wing account for €300 million of that total. The first phase of the construction will see the development of the central plaza, which is due to open in late 2018. This plaza will offer an extra 25,000 square metre of space for new passenger facilities.
The entire west wing is expected to be completed in 2020 and it joins the construction of the south wing, which has already begun and is set to be open in mid-2017. The expansion programme will continue in stages to manage project-related risks and further investment decisions for the west wing will be made in the future.
Ville Haapasaari, Airport Director and SVP at Finavia, said: "The magnificent central plaza will be used by departing and arriving long-haul passengers. Various facilities, such as modern security control, shops, restaurants and new services, will be located around the plaza.
"We want to not only provide our passengers with a smooth, pleasant and straightforward customer experience, but also to create experiences. Our aim is to establish a setting for an unforgettable and significant travel experience that lives long in the memory and strengthens the Helsinki Airport brand."
The expansion was designed by PES-Architects and one of the company's architects, Tuomas Silvennoinen, said: "The designs incorporate elements that allow Helsinki Airport to set itself apart from other airports around the world. We will highlight Finnish expertise and architectural style. The abundant use of glass and wood will provide brightness and create a sense of being close to nature."
There are also plans to expand Terminal 2 of Helsinki Airport to provide more space for passenger check-in, security control and baggage facilities. Finavia is preparing to open a design competition for this terminal, although construction is not expected to begin until at least two years' time.