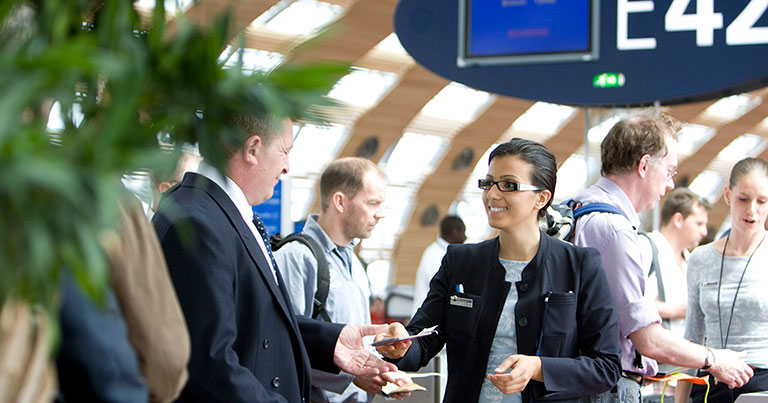 The Air France-KLM group has an enviable reputation when it comes to using technology to enhance the customer experience. Its central role in the Spencer robot and Happy Flow single biometric token trials, its investment in the development of electronic bag tags and tracking devices, and its use of artificial intelligence to create automated customer service channels provide just a handful of examples of how both Air France and KLM have embraced innovation in recent years.
Michel Pozas Lucic, Air France-KLM's Vice President Customer Innovation and Care, has been at the centre of many of these projects, and when FTE caught up with him this month, he explained that the group has more ambitious plans afoot as it strives to become "the leading airline in customer intimacy". In order to achieve this goal, technology has a crucial role, but, as Pozas Lucic explained: "From research and practice, we know that the way we interact with our customers has the largest impact on how they experience their journey with us."
Air France-KLM is currently investing heavily in its CRM (customer relationship management) system and in customer care and recovery as part of this strategy. Pozas Lucic explained that the goal is to ensure that front-line staff have an accurate real-time view of their customers, and on any servicing needs or commercial opportunities.
"The challenge for airlines with so many online and offline touchpoints is to gather all relevant customer data and make them instantly available," he explained. Work is going on behind the scenes to ensure that all areas of the business, from the cabin to the contact centres to the ground staff, as well as all other departments, have an aligned and accurate view of exactly what is happening.
Providing an example of how this connected CRM system will soon benefit the passenger experience in practice, Pozas Lucic provided the following example of a connecting passenger who is flying Delhi-Amsterdam-Chicago. If they have pre-ordered a vegetarian meal and by mistake the meal is not on board, as things stand the crew member cannot create a new vegetarian meal on board, but offers you alternatives and apologies. If the problem lies within the booking details, chances are the passenger will not have a vegetarian meal ready for them on the next leg of the journey either.
"What we will be able to do soon is that the cabin crew will put a message in their device asking the ground staff to pick you up at the gate, take you to the airline lounge and offer you a vegetarian meal," he explained. "A message, probably an automated message, will also be sent to adjust your booking details so that it doesn't happen on the connecting flight and the return flight." These capabilities should become reality before the end of 2017.
On the spot recovery and human interaction
"Our ambition is to recover disruptions proactively and on the spot," Pozas Lucic said. "Travelling can be stressful. Being proactive and solving disruptions when they happen on the spot can make a big difference."
If something goes wrong on board, such as the IFE screen not working, crew can compensate passengers immediately by offering them the choice of cash, miles or an item from the duty free catalogue. The crew members on the next flight will be able to see what disruption each customer has encountered during their trip and will pay extra attention to ensure that the rest of the journey runs smoothly. This approach of instant recovery from a disruption will, in the near future, also be rolled out at other touchpoints.
In recent years, Air France-KLM has been building a toolbox for its front-line staff to support the human interaction with their customers. At present, contact centre agents can send a hand-written postcard with a personalised message – "good luck with your exams, for instance" – to the customer they had on the phone. Flight attendants have the autonomy to give passengers small, sustainably-sourced gifts when they feel that it is appropriate in a certain situation. Nowadays, when a frequent flyer achieves Platinum status, it is celebrated on board with the captain and the cabin crew. "This has far more impact than receiving a letter at home," Pozas Lucic added.
AI and a personal digital assistant
This focus on enhancing face-to-face service will be complemented by the continuation of significant investment in new and emerging technologies. Both Air France and KLM already offer artificial intelligence (AI) chat bots, which interact with customers online and answer relatively basic questions. Pozas Lucic revealed that the next development in this space involves the creation of a personal, digital travel concierge, which will be powered by AI. The most premium of customers already have access to a personal concierge and now the group wants to bring something similar to all customers.
"It would be nice to offer something like this to more regular customers," he said, "but you quickly get into the field of automation. We have 90 million customers and we cannot staff that by humans."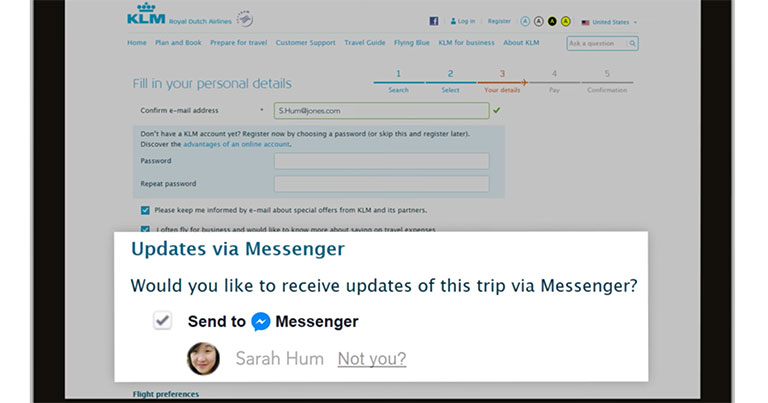 Explaining how the concierge could benefit travellers, he continued: "You could say 'I'm flying to Paris tomorrow and I'm looking for a restaurant with good music and a good crowd. What would you recommend?' It is meant more as a service than a sales channel."
Underlying this strategy is a desire to "be where the customer is", Pozas Lucic stated. "We're already the leader in social media. If the customer is on social media, we should be able to serve them on this channel and not push them back to the dot-coms that we have. We believe it will move more and more in that direction. Our frequent flyers know how to find us but most of our customers fly only once a year. Do they really download our app? Maybe not, but they're on Facebook and WhatsApp, so why would we not allow them to get service or receive their boarding pass and so on via these channels?"
Biometrics and robotics
Another area in which Air France-KLM has taken on a leadership role is that of biometrics, with KLM playing a central role in the Happy Flow single biometric token trial in Aruba. Pozas Lucic and his colleagues are paying close attention to the latest developments and he suggested that the group could have a surprise up its sleeve. "We are also looking at options for biometrics without all of the hardware," he revealed. "One option is to install all of the biometric scanning hardware at all the airports. This is currently proven technology that works, but it is also time and capital intensive. So, we are also thinking of what we can do that doesn't require all of these investments and all of this time."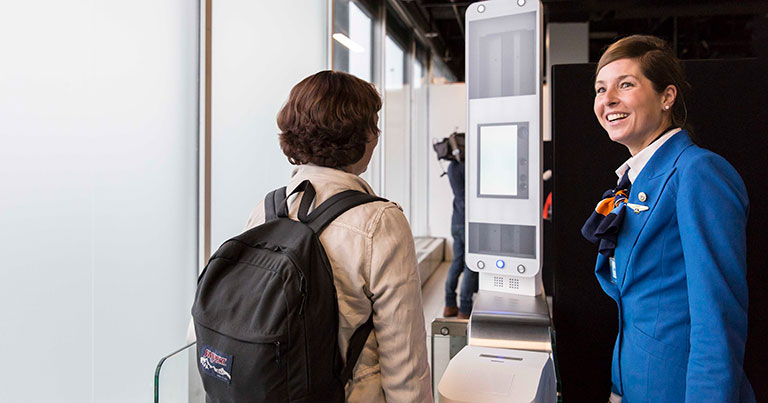 Looking to the longer term, robotics is still very much on Air France-KLM's radar. Satisfied with the results of the tests of the socially aware Spencer robot, exploratory work in this space will continue but "this is not a matter of months, it's a matter of years".
"It will take five to ten years before we really have something that can make a big difference to the big processes," Pozas Lucic said. "But you have to be out there to know what's cooking, you have to prepare your organisation for it, to build the capabilities. What I don't believe in is waiting and then, when the time arrives, being shocked and realising that you're already years behind the leaders.
"The same goes for virtual reality and augmented reality. Although usage currently is still small within the airline industry, we expect them to become big technologies in the coming years. This will be, for instance, in areas like airport wayfinding, onboard entertainment and during the orientation phase when customers search for inspiration for their next trip. We are setting up various pilots and are preparing for a broader introduction in the future."
Baggage experience
In the nearer term, baggage-related advancements could well be rolled out. Three years ago Air France-KLM revealed that it was working on ground-breaking e-tag and baggage tracker solutions. "We were never confident enough or satisfied enough with the products to launch worldwide. We're still optimising that," Pozas Lucic admitted. "For now, there's not one single solution that solves everything. We will probably come out sooner rather than later with a well-working baggage tracker."
Alongside this, Air France-KLM is exploring the viability of offsite bag drop and baggage delivery services, which could help to reduce the number of bags being brought into the check-in hall. Baggage delivery trials to date have been "very successful", according to Pozas Lucic. Also being explored are bag drops in long-term car parks at Amsterdam Airport Schiphol. "Imagine if we take care of your luggage and check it in at the parking area," he said.  "You can just comfortably walk to the bus stop and take the bus to the terminal. This is something we're looking at."
All of these examples, from on the spot recovery to baggage delivery, provide evidence that Air France-KLM is not afraid to try something different in order to differentiate its product and simplify the travel experience for its customers. While many airlines talk about "innovation", Pozas Lucic and his colleagues are walking the walk, and he told FTE that this is largely because the organisation "has innovation everywhere". "The whole philosophy here is one of innovation. No single department owns innovation," he explained.
This collective desire to innovate is at the heart of Air France-KLM's plans to establish itself as the leading airline in customer intimacy. The airline group is determined to simplify the journey, to offer passengers what they want when they need it, and to deliver personalised experiences. While neither the human touch nor technology can achieve this alone, together they could well redefine the entire Air France-KLM experience.