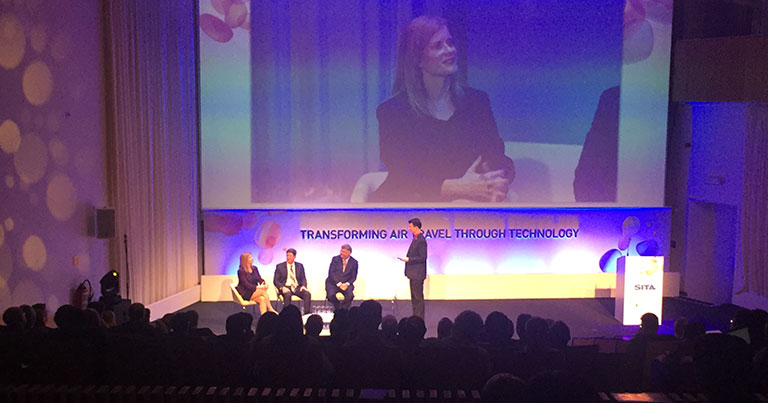 FTE was in attendance at the SITA Air Transport IT Summit in Brussels last week, where digital transformation was among the key topics of conversation.
Among the speakers was Maryssa Miller, JetBlue's Head of Digital Commerce, who spoke openly during a panel discussion about some of the technologies and trends that have the potential to reshape the customer experience in the coming years. Here are some of the highlights from that discussion.
Accelerating innovation
Miller suggested that while most organisations recognise the potential of various new and emerging technologies, the speed at which they're being deployed could be accelerated. Referring to the industry as a whole, she said: "I don't think anyone would say that we're implementing technology fast enough because we keep getting requests for it to be faster, for the time to market (to be) faster. We all want that, whether it's the customer that wants it or the internal folks that want it. We all believe there is a faster way to do it."
She highlighted the fact that Amazon claims to be doing 50 million deployments per year, and contrasted this to the air transport sector, where quarterly releases are not uncommon for industry suppliers. "We're far away from being able to get to that Amazon model, but I think that we are getting there and we have to keep focusing on getting the code from the keyboard to the customer much quicker," Miller added.
Artificial intelligence
It was no surprise that artificial intelligence (AI) was a hop topic at the Summit. During the past year or so, a number of airlines have invested in developing AI-powered chatbots for platforms such as Facebook Messenger and Amazon Echo. JetBlue's Miller revealed that AI is very much on JetBlue's agenda. AI, she explained, can streamline the process of answering passengers' more basic questions, therefore freeing up members of staff to spend more time dealing with more complex issues.
She said the air transport industry must be aware of the fact that people are now becoming used to interacting with the likes of Google Home and Amazon's Alexa. "That's really going to change the overall airline travel industry in other ways as well," she said.
Robotics and automation
During the panel discussion, which was led by APEX and IFSA CEO Joe Leader, the future role of robotics in the industry was explored. While recognising the fact that robots and automation are likely to become increasingly prevalent in both operational and customer-facing roles in the future, Miller played down concerns about any potential impact on jobs. Instead, the technology will "transform the jobs that are being created", she said.
The introduction of self-tagging, for instance, has empowered JetBlue's crew members to roam the check-in hall and pro-actively assist passengers, she explained. Also, in back-of-house roles such as baggage handling, robotics could provide assistance by easing the burden on staff members, she suggested. "I think (robotics) is actually going to increase jobs in other areas, as much as it might eliminate the more transactional ones," Miller added.
Biometrics
As biometric technology continues to gain traction, and airlines, airports and suppliers further explore the idea of single token travel, the technology is on JetBlue's agenda. "I think overall we'd like to use biometrics from the beginning of the customer journey all the way through to the end," Miller said, hinting at the potential of biometrics to eventually replace physical boarding passes and identification documents.
Following the conference, JetBlue announced that it will launch a trial of biometric-enabled self-boarding at Logan International Airport in a project that will make use of facial recognition technology. Something tells us we will be hearing a lot more about biometric processing in the coming months.