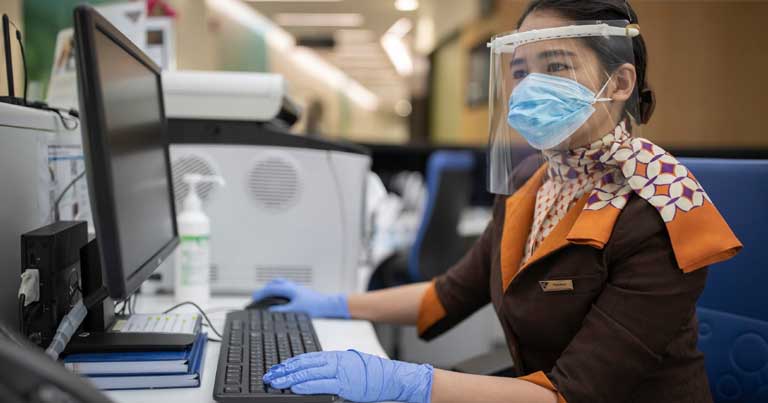 Etihad Airways has partnered with Mediclinic Middle East to offer UAE-based travellers COVID-19 PCR testing service at their home, or at a Mediclinic facility, prior to their travel.
This development is part of the Etihad Wellness sanitisation and safety programme, recently introduced to ensure highest standards of hygiene at every stage of the customer journey.
Guests travelling to all Etihad Airways destinations can also take advantage of the Mediclinic service, as well as those crossing the Abu Dhabi border from other emirates to reach Abu Dhabi International Airport.
Once the passenger has booked their flight through the Etihad website, they need to contact Mediclinic to arrange an appointment. Guests can complete a PCR test at one of the Mediclinic facilities in the UAE or arrange a home visit. Test results will be received within 24 hours of the test swab reaching the laboratory and Etihad recommends that an appointment takes place a minimum of 48 hours prior to travel, as some destinations require the test to be conducted at a specific time before travel.
If the test is negative, the passenger needs to print the test result and proceed to check-in for the flight, where an agent at Abu Dhabi Airport will review the negative result before completing check-in. If the test is positive, the passenger will be unable to travel and will need to rearrange their flight for a future date.
Dr. Nadia Bastaki, Vice President Medical Services, Etihad Airways, said: "Collaborating with world-class medical providers such as Mediclinic is vital to the services Etihad is providing its guests as part of the Etihad Wellness programme. We have a paramount responsibility to ensure those who are travelling from Abu Dhabi can do so assured in the knowledge that every effort is being made to care for them at every stage of their journey. Enabling home PCR testing will remove much unnecessary stress from the travel experience during this challenging period.
"These measures are also a reflection of those being taken across Abu Dhabi, which has been a world-leader in its response to the current COVID-19 pandemic, including vaccine research, mass testing, and community sanitisation programmes. Etihad will continue to work closely with the local authorities and partners to find innovative and convenient ways to protect our guests, and to promote secure and hygienic flying as the world slowly opens up to international travel."
The airline aims to evolve the relationship with Mediclinic to further simplify the home testing process for its guests as international travel restrictions are eased and more countries open their borders to inbound visitors.
The circumstances surrounding COVID-19 are continuously evolving. Our friends at APEX have a dedicated COVID-19 page, which they'll be updating regularly to help keep you up-to-date on how the novel coronavirus is impacting the aviation industry. Visit the page for the very latest news >>