09/22/2021
Dear friends and colleagues,
Doesn't the world feel a bigger place again after the news on Monday that the US will end its travel ban? It's certainly a major milestone in the recovery for our industry, and let's hope more governments follow suit quickly. Travel is safe, and as Frank Borman once said, "Exploration is really the essence of the human spirit". In a week where SpaceX completed its first all-civilian flight, we should all be able to look at a map again now and consider a potential destination for a holiday or business trip without worrying if we can get in or not. It's time.
As we all continue to drive the recovery forward as an industry, most stakeholders are still having to reimagine what they do to future-proof their business. Future Travel Experience (FTE) is no different and when we couldn't meet face-to-face, we pivoted very early to become virtual event specialists. Thankfully, in-person engagement is returning, but we have been thinking long and hard about what our purpose as an organisation should be beyond the leading events and media that we first established ourselves with back in 2006. 
I'm excited to reveal that we are evolving our efforts to move beyond only supporting industry-wide advancement goals through initiatives like our international events, Think Tanks and Working Groups, to also helping individual organisations solve the problems they are facing, and tap into the new opportunities for growth. We are doing this through a number of channels, including the FTE Innovation & Startup Hub, FTE Creative and the soon-to-launch FTE Consulting and FTE Training, which you can read more about below but firstly, I would like to share an important update on our upcoming in-person events. 
FTE Global to go ahead in Las Vegas this December; Singapore show cancelled; plus, 2022 line-up confirmed
Whilst certain regions of the world are opening up, sadly Asia-Pacific is not one of them. So, it is with regret that we have made the decision to cancel our FTE APEX Asia Expo show, which was due to take place in Singapore this November. 
However, I'm pleased to confirm that FTE Global 2021 will go ahead as planned in Las Vegas on December 7-9. We are now focusing our energies on bringing the widest possible audience from around the world to our landmark 15th anniversary FTE Global event. The plans for the show are coming together really well. The theme is "New Approaches for a New World" and the show will champion bold new ideas, solutions, collaborations and innovation efforts to ensure individually, and collectively, we achieve an industry recovery that makes air transport even stronger in the long term. You can find out more about our plans – including the fantastic networking and inspirational keynotes that will be delivered by the likes of Delta Air Lines, United Airlines, Lufthansa Group and Virgin Atlantic/Virgin Voyages/Virgin Hyperloop – on the FTE Global website.  
We are also busy planning for our shows in 2022, and I'm pleased to report that we will be returning to Dublin in June for our FTE EMEA/FTE Ancillary show. In an exciting new development, this will be co-located with the all-new FTE World Airport Retailing Summit and the new-for-2022 Lounge Innovation Forum. Our full 2022 event line-up will be as follows: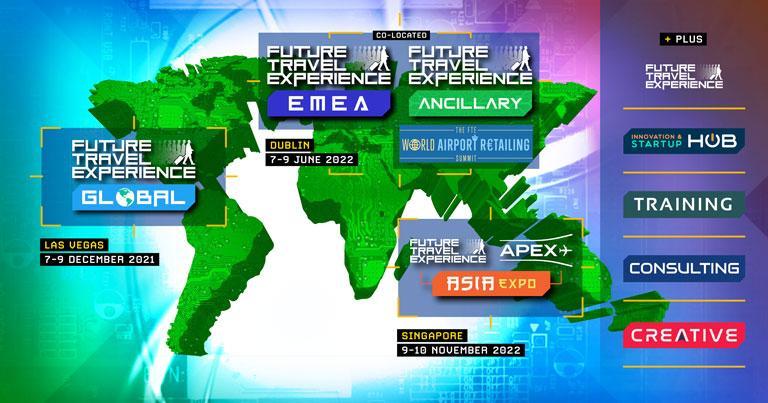 Introducing FTE Consulting and FTE Training; plus, the latest from the FTE Hub and FTE Creative 
Since its launch in 2018, the FTE Innovation & Startup Hub has gone from strength to strength. We now offer a far more tailored and flexible membership model for the world's first air transport innovation network, which has recently welcomed the likes of CVG Airport and Team ABC, among many more Corporate Partners, as new members. Following the widespread impacts of the pandemic, the FTE Hub can play an important role in helping to support downsized innovation departments, or even act as an outsourced innovation division for organisations who no longer have the budget for in-house resource but still want to ensure they are on top of the biggest trends and best air transport startups out there globally. 
We will also be launching two new divisions – FTE Consulting and FTE Training – in the very near future. FTE Consulting will be first out of the blocks in the coming weeks. This is not just another consultancy. Far from it. Our team and network of industry experts are ready to work with you to provide hands-on engagement to gain an in-depth understanding of your key problems and challenges; share how other stakeholders around the world are tackling these issues; and then identify, design and implement cost-effective solutions to meet your ambitions. We are proud to be working with a selection of talented partners – including  Skylight Aviation – with experience on every continent and with every type of industry stakeholder, to deliver these capabilities with all the enthusiasm, passion and dynamism you have come to expect from FTE. 
Meanwhile, FTE Training will play an important role in addressing the skills gap appearing in aviation right now and I look forward to sharing more information on this in the coming weeks. These new divisions will sit proudly alongside FTE Creative – our full-service agency that offers an outstanding range of digital tools to help organisations showcase their products and services as effectively and interactively as possible online in this new world. 
FTE Advisory Board updates
There have been a number of personnel changes across the industry over the last 18 months and this has impacted our highly valued FTE Advisory Board, too. However, I am delighted to say we have recruited the following executives, all of whom are long-term allies who support FTE's mission, to help drive our industry change efforts and ensure our output continues to be of the highest order going forward: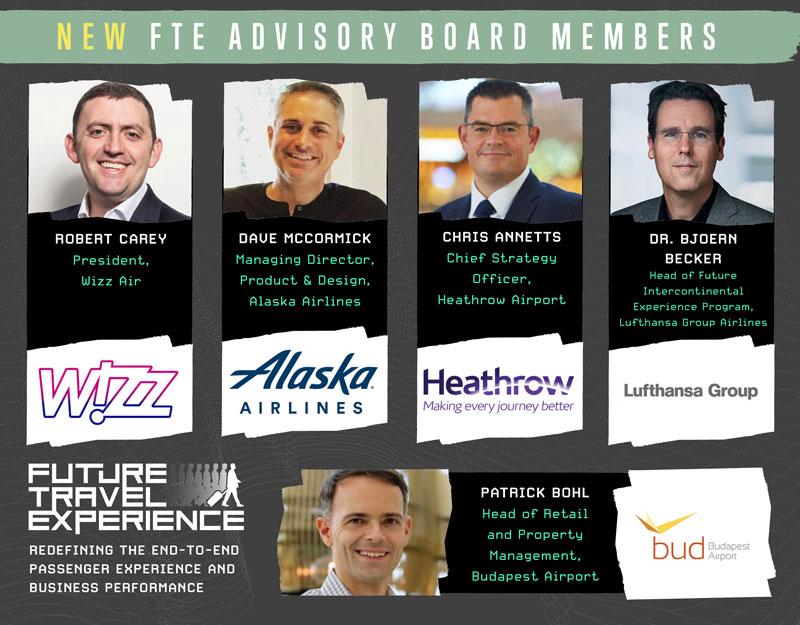 Looking ahead, I'm relishing the opportunity to collaborate with you and your organisation in the coming weeks and months, and I very much hope you can make it to FTE Global this December 7-9. It will be incredibly meaningful to connect face-to-face with the FTE ecosystem once again as this show is undoubtedly the industry's very best forum for quality learning, relationship building and collaboration, so I'm certainly looking forward to it. 
If you would like any further information on any of these important developments, please don't hesitate to reach out to me directly.  
All the best,
Daniel Coleman 
Founder & CEO
Future Travel Experience