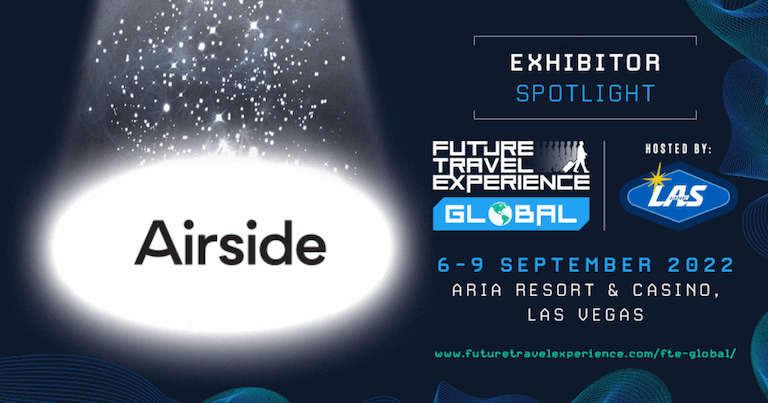 Airside is pleased to join FTE Global 2022 to demonstrate how the Airside Digital Identity App makes the future of travel a reality today by verifying and sharing digital identity attributes to open a new world of opportunities and experiences.
From seamless travel at bag drop, the security checkpoint, and lounge entrance to remote authentication, and more, Airside provides trust and efficiency in the use of digital identity.
With Airside, travelers are empowered to control their personal information with transparent consent protocols while travel providers can enhance their services, decrease costs, and reduce the burdens of compliance.
What makes your products / services stand out?
---
At Airside, we are focused on mobile enrollment and reusability of IDs, traveler-control, and the privacy and security of sensitive identity data. Airside's technology is interoperable with multiple providers and multiple systems while ensuring the protection of personal information, such as passports, driver's licenses, and COVID vaccination records. We have made innovative developments with our own patented technology and appreciate our easy collaboration with major air carriers and ID verification providers.
What brings you to the EXPO this year?
---
In a major breakthrough since last year's event, we're proud to announce the American Airlines Mobile ID for use at the TSA security checkpoint. Thanks to thoughtful cross-industry cooperation to make seamless, touchless travel a reality, American Airlines AAdvantage® members with TSA PreCheck® can now simply use the Airside App to share their reusable digital ID with TSA. Then, at select locations, they can enjoy faster, designated American Airlines Mobile ID lanes.
We look forward to speaking about this use case and the future of mobile, digital ID in the travel experience.
Why should visitors come to your stand and what can they expect to see?
---
Experience mobile ID firsthand! Our technology and customer experience experts will demonstrate how easy it is to create a verified digital ID on a smartphone and how to share and present it along the travel journey.
Visit us and our partners, Vision-Box, Thales, and American Airlines to see our joint solutions in action. Airside will be in booth C5. Download the Airside App in the Apple App Store or Google Play Store today and come by to let us know about your experience.
What do you think is the biggest lesson that the industry will take away from the COVID-19 crisis?
---
The pandemic continues to inflict trillions of dollars in global economic losses, and everyone has had to convert to a more digital and virtual existence where possible. We applaud how technology serves as a means of connection during these challenging times. However, we would be remiss not to acknowledge the still evolving development and adoption of standards and the limited opportunity, mobility, and interoperability of digital technology, making individuals and businesses more vulnerable to identity theft, data breaches, and cybersecurity scams and fraud.
Globally, society is being forced to consider the value of verified digital identities. Businesses, organizations, and governments have quickly responded by evaluating and adopting biometric-based digital identity products.