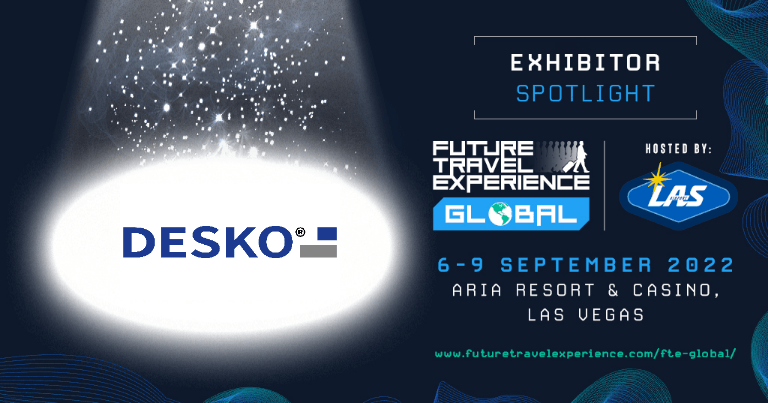 With more than 30 years of experience in the development of hardware and software solutions for ID document verification, automated data capture and barcode scanning, DESKO is your ideal partner within the fields of passport and boarding pass scanning, access control, security checks and passenger handling. No matter which touch point at the airport is involved – DESKO devices provide a maximum level of service and security thus streamlining the entire passenger process in both self-service and agent-based environments.
Contact Details:
Company name: DESKO GmbH
Booth number: B6
Website: www.desko.com
What makes your products / services stand out?
---
DESKO scanner and software solutions are efficient, fast and provide maximum security. With more than 30 years of experience, DESKO is a respectable partner in the airport/airline industry which is the reason why the major players in the industry rely on the scanners worldwide. Flexible DESKO products for authentication, data collection and barcode scanning support employees and travelers at every passenger touch point. No matter if the devices are used in agent-based or self-service environments – DESKO solutions ensure a fast check-in, smooth passenger handling and secure access control for both travelers and staff members.
At this year´s FTE Global, as a show highlight, we present our flexible full-page scanning solution PENTA 4X, the latest generation of the well-proven PENTA Scanner platform. Within a second, the PENTA 4X provides accurate read results form ID cards, passports and boarding passes. The device is also available as OEM version PENTA Scanner 4X Cube for the integration in kiosks and boarding gates. Besides, our product portfolio also includes efficient boarding gate readers, swipe readers and keyboards which guarantee a trouble-free passenger processing from check-in to boarding.
What brings you to the EXPO this year?
---
The Future Travel Experience Global has always been an important date in our exhibition calendar. The event is an excellent opportunity for us to meet experts from the aviation and air transport industry. We appreciate the professional exchange about the latest developments in the travel sector and love to discover innovative strategies to improve the passenger journey at the airport.
At the exhibition, we want to show how our technologies and solutions can contribute to provide passengers and staff members the best service and optimized processes in all areas of the air transport and travel industry. DESKO full-page scanners, swipe readers, keyboards and software include state-of-the art technology and streamline processes at the check-in, baggage drop-off, security checks and boarding gate
Why should visitors come to your stand and what can they expect to see?
---
At this year´s FTE Global we showcase our well-proven product portfolio for the travel and aviation industry including product solutions for every passenger touch point at the airport. At our booth visitors can discover DESKO´s brand-new full-page passport scanners PENTA Scanner 4X and the OEM version PENTA Scanner 4X Cube, the latest generation of the class-leading PENTA Scanner family.
Besides the new PENTA 4X scanners we are also proud to present a selection of highly efficient boarding gate scanners, swipe readers and keyboards for the check-in. DESKO welcomes visitors at booth B6 to test the airline/airport product range themselves. Live product presentations will be performed during the exhibition to give a practical insight into DESKO´s latest technologies and developments.
What do you think is the biggest lesson that the industry will take away from the COVID-19 crisis?
---
As a result of the Corona crisis, the international air traffic was literally on the ground. Airports and airlines lost millions – and still they have to invest since it was necessary to introduce new processes for passengers and staff in the post-COVID 19 era. The so-called "new normal" in air travel relies on consistent compliance with hygiene and behavioral rules and on contactless processes.
DESKO Managing Director Alexander Zahn:
"We are in the fortunate situation that our devices can be integrated into these new processes with little effort. This leads to positive effects for our business relations: airports that already work with DESKO devices can optimize processes with our help. Sometimes it is already enough to use Plexiglass as a separation between passenger and staff and simply turn the passport scanner so that the passenger can operate the device himself. That would be a typical check-in scenario. And at boarding, we use devices that are able to scan at a distance anyway. For example, passengers can simply hold their boarding pass or cell phone over the scanner. The data is read and checked without contact."
A particularly close partnership connects the Upper Franconian technology leaders with the Middle Franconian Albrecht Durer Airport. There, the new processes have already been set up exemplarily with DESKO scanners. In exchange with the Nuremberg-based company, tests are prepared, innovations are advanced and further future projects are planned.