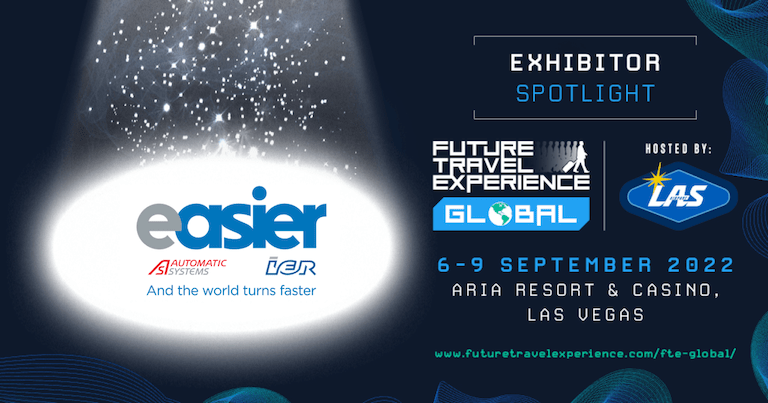 EASIER is a leading manufacturer of intelligent passenger processing equipment for airports, airlines immigration and public transportation. Our portfolio includes e-gates, kiosks, baggage drop, exit lanes, printers and scanners. Our solutions integrate curb-to-gate biometrics, DCS and common use connectivity.
EASIER's reputation is based on unmatched reliability, responsive support and a unique ability to customize products to specific requirements. EASIER was formed in 2019 by combining the transportation activities of IER, the established self-service technology provider, and Automatic Systems, the global leader in access control.
100 million people go through our gates daily!
What makes your products / services stand out?
---
Our DNA is manufacturing innovative, robust, durable airport equipment that will operate reliably in airports with limited support, and providing comprehensive life-cycle management including help desk, repairs and spare parts. Many of our devices continue to operate reliably well beyond their announced life expectancy.
EASIER's expertise in multiservice kiosks and access control technology is combined with the company's leadership in self-service equipment solutions to deliver postal and administrative kiosks, check-in kiosks, bag-drop solutions, and access control applications for public transport and airline markets.
In the US, EASIER is helping airports and airlines implement biometric boarding for international flights, in support of CBP's US Exit initiative. Our solution is fully operational and integrates state-of-the art biometrics, an interface to CBP's TVS and connectivity to any airline via our pre-existing and common-use certified interfaces. Our unique pre-integrated software eliminates the need for third party software integration.
EASIER provides a comprehensive range of high-end products and services to air and land transport operators and public institutions. With a global commercial presence and a network of authorized partners and dealers, EASIER serves the leading actors in the aviation, public transport and public services sectors, ensuring high standards in terms of equipment reliability and maintenance.
What brings you to the EXPO this year?
---
Actively involved in the evolution of technology, these last years EASIER has been busy deploying e-gates at security checkpoints and boarding gates in the US and worldwide. We are excited to present these projects to our industry colleagues, and share lessons learned.
We have continued to support airlines, airports and government entities in their move towards the self-service biometric passenger journey. We look forward to discussing these projects at FTE and to introduce our latest innovations.
Why should visitors come to your stand and what can they expect to see?
---
By visiting our stand, you will have the opportunity to spend a pleasant moment with our experts and to exchange on the evolution of the airport market. Furthermore, we will be delighted to let you discover and test our latest innovations such as the Skycheck, our latest generation of self-service check-in kiosk compatible with biometrics, but also our latest generation of check-in printer, the "Sprinter", renowned for its robustness regardless of the volume of printing required and for its reduced footprint allowing it to be integrated into all check-in counters.
What do you think is the biggest lesson that the industry will take away from the COVID-19 crisis?
---
Touchless solutions have become essential during the pandemic. EASIER developed a Touchless Kiosk Utility allowing passengers to print a bagtag without touching a kiosk screen. E-gates have become much more prominent in the US in the last year with deployments such as Las Vegas and Tampa. They combine great passenger experience with reduced staffing needs at the boarding and security checkpoint.