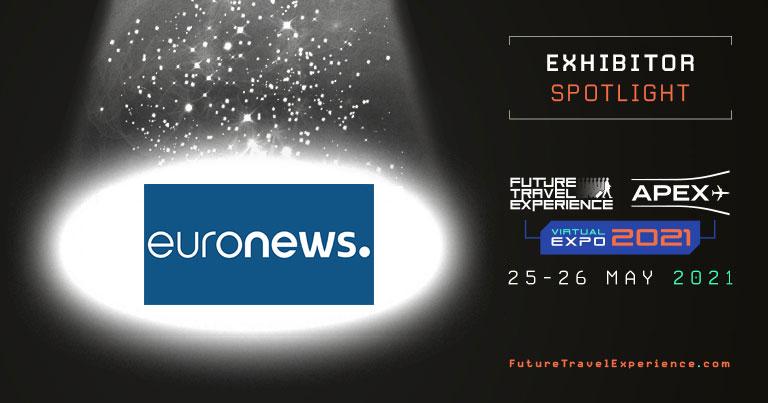 Euronews is Europe's leading international news channel. Its mission is to empower people to form their own opinion. Euronews is unapologetically impartial and seeks to offer a diversity of viewpoints. Euronews is broadcast 24/7 and boasts 12 distinct language editions.
What makes your products / services stand out?
---
Euronews is offering its airline customers three new subscription packages depending on a client's needs for a fixed contribution.
The first package, "SVOD for Inflight" provides unlimited access to Euronews video on-demand episodes in 12 languages. Topics include: business, culture, sports, science, travel and lifestyle.
The second package, "Nearly Live News," encompasses part time broadcasting, news bulletins, M/RSS feeds.
Finally, the "Live Content" subscription package comprises access to the 24/7 channel focused on a mix of global, European and regional news
These new packages have been designed to provide airlines with full control over their usage of the content in all formats – they have all rights for both airline lounges and on the aircraft – as well as control over the duration of the playing cycles.
What brings you to the EXPO this year?
---
As we saw in December 2020, FTE APEX is a great "place" to meet our existing partners but also to continue to grow our IFE network. Throughout the event we are hoping to highlight 1) the relevance of the NEWS content in today's context, 2) offer our partners a comprehensive overview of our numerous products, and 3) shed the light on several content formats and commercial approaches for airlines, CSPs, airports or technology providers that could help them to be inspired, to engage with their own customers and to overcome the current COVID-19 crisis.
Why should visitors come to your stand and what can they expect to see?
---
We have really listened to our partners and have adapted our own content formats to fit the exact needs of our partners, whether it is from the editorial, content perspective or even from the financial side (one specific content format is actually enabling partners to generate revenue with us).
With that in mind, and for the last year, we have been focusing on new lifestyle based content verticals: Euronews GREEN, Euronews TRAVEL and of course our premium VOD content
Green, is our lifestyle platform that covers most interesting stories about the environment, nature, green innovation and design, sustainable fashion, animal welfare, and eco activism. You name it; we cover it.
Travel is our latest brand new content destination, launched in October last year with the aim to inspire people, to change their view on the world, and simply inspire them to travel, when borders are re-open.
We have developed this platform for people whose passion is to unravel and discover new places, cultures and encounter new perspectives.
And you will find topics such as: Lesser-known destinations, Memorable experiences, Need-to-know travel hacks and finally unique travel stories and news.
What do you think is the biggest lesson that the industry will take away from the COVID-19 crisis?
---
What we have noticed is that, more than ever, audiences are looking at media for Entertainment and accurate Information.
Major US studios for example, completely changed the way they bring content to the markets, with tentpole hollywood movies going out Day and Date on VOD platforms, and hence altering and destroying the concept of windowing (which is so important for IFE segment)!
In times of crisis, audiences also turn to trusted news sources. Euronews for example experienced a huge surge in traffic across our linear TV channels. Audiences also spent more time on all of our digital platforms, including Euronews.com, youtube channels and digital lifestyle verticals (like Euronews Green). We also found that people are going beyond the news headlines… Engagement was up across the board, not just on news, but on human interest stories, European affairs, and on our living and entertainment channels.
We see it as our duty to not just keep audiences informed during this time, but to encourage them, enlighten them and even entertain them. In times of crisis consumers are for example looking for topics that MATTER , those that RESONATE with them, containing tips to stay healthy and live positively.