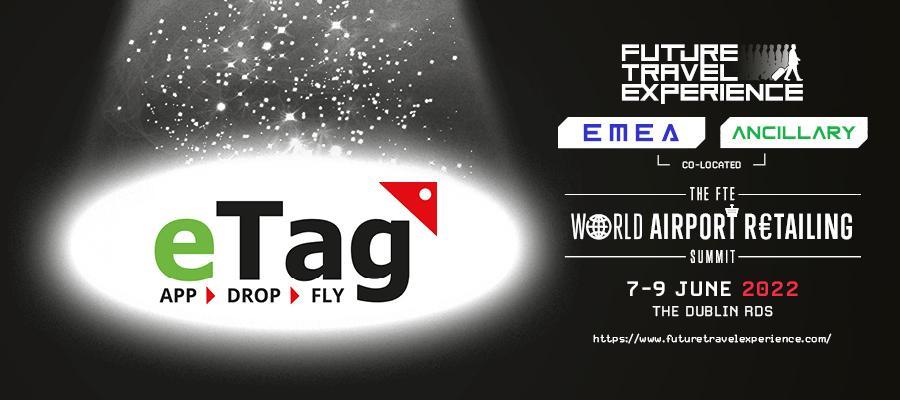 eTag is developed by Fast Travel Global Ltd, a British company founded in 2015. Designed to replace paper tags and be backwards compatible with all existing baggage handling equipment, eTag enables passengers to complete their check-in off-airport and arrive with bags tagged. The use of a drop off point or bag drop machine is all that is required at the airport, minimizing touch points and providing a Covid secure experience. Airlines benefit from faster throughput of passengers and leverage of investment in bag drops as well as reduced incidences of lost bags given secure attachment and clean reads on all legs of travel.
What makes your products / services stand out?
---
eTag stands out from its competitors with an ergonomic product that is designed to be functional and easy to use by passengers, and to deliver efficiencies for airlines while achieving the same or better results than paper tags. The only two sided electronic bag tag, eTag can be fitted to any case and swapped in seconds using the TSA approved lock. It flips and flops just like a paper tag ensuring quality of read rates at all times. It incorporates the Green Schengen stripe for intra-European travel.
The two E-Ink screens are written to via an airline's app (or the eTag app) using Bluetooth Low Energy providing a consistent read during all legs of travel. Powered by coin cell batteries that are hold safe and non-rechargeable, the eTag has a life of 3,000 screen refreshes or approximately 7 years. Built in RFID enables airlines to comply with IATA753. Designed to be purchased by passengers, eTag provides an ancillary revenue opportunity for Airlines. At a sub US$50 MSRP, eTag is designed for use by all types of travellers, delivering efficiencies for airlines by automating and outsourcing this last piece of the check-in process to passengers.
What brings you to the EXPO this year?
---
As the EXPO coincides with the commercial launch of eTag we think it is a great opportunity to showcase our electronic bag tag to the industry.
Why should visitors come to your stand and what can they expect to see?
---
Visit eTag on stand S10 to learn about our unique electronic bag tag and discover the benefits it can bring to your passengers and to you as an airline or an airport. See how easy it is to fit to any case and to update via phone app. Let us tell you how eTag fits in with the latest technologies designed to speed the passenger journey, in a Covid secure way, and deliver a better customer experience. If you have ever lost a bag on a flight or had that check-in anxiety about whether the agent put the paper tag on the bag before sending it off down the conveyor belt, or you have spent frustrating minutes trying to put a tag on at the airport only to end up with a crumpled sticky mess, then a few minutes with eTag's founders Graham and John will open your world and that of your passengers to a better baggage experience. eTag App > Drop > Fly.