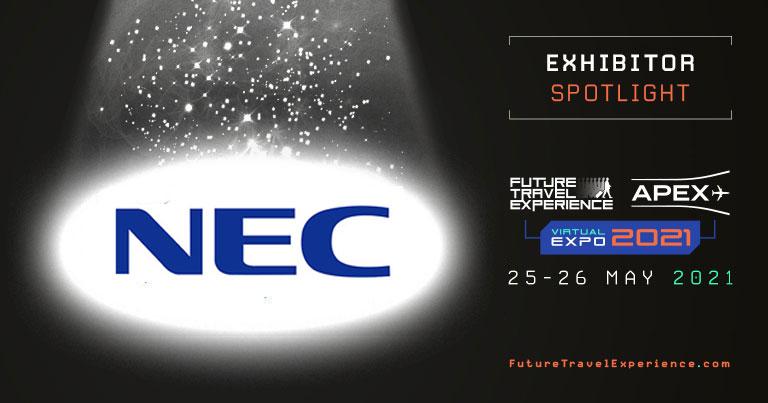 NEC Corporation of America (NEC) is a leading technology integrator delivering one of the industry's strongest and most innovative solution portfolios, including biometrics, security, communications, analytics, and technology solutions.
NEC offers many of the industry's fastest, most-accurate biometric algorithms as validated by the National Institute of Standards and Technology (NIST). NEC has proudly deployed aviation solutions at more than 25 airports around the globe, and works with leading organizations including Delta Air Lines, Star Alliance, SITA, and the U.S. Customs and Border Protection (CBP).
What makes your products / services stand out?
---
NEC's innovative Digital ID and AI technologies create a safe, touchless and seamless travel experience. Our single, scalable and interoperable Digital ID platform, NEC I:Delight, can help airlines and airports optimize efficiencies, reduce wait times, and create a more personalized travel experience. The NEC I:Delight platform enables unified Digital ID which can strengthen loyalty value proposition within the travel ecosystem while optimizing business operations.
Large-Scale, real-world use cases including Star Alliance, Delta Air Lines, Hawaii Department of Transportation, U.S. Customs and Border Protection (CBP) and SITA.
What brings you to the EXPO this year?
---
COVID-19 represents a compelling event not seen since September 11, 2001, resulting in massive impactful changes to the aviation industry. And there is a growing consensus that many of these changes are here to stay. We are at FTE to share our success stories, perspectives, technology innovations, and industry knowledge with peers in the aviation industry so we can all thrive during and post COVID-19.
Why should visitors come to your stand and what can they expect to see?
---
NEC will offer virtual tour of curb-to-gate seamless travel journey powered by the NEC I:Delight Digital ID Platform, from check-in to bag-drop and security checkpoint, to access VIP lounge, airport shopping, and boarding. Attendees can also learn real world uses cases in our virtual booth, such as Delta's Biometrics Hub and Star Alliance Biometrics Services. We will also have staff available to answer questions in real-time, just like what you'd experience at a physical event. This will be a great opportunity to learn what's available for aviation transformation during the post the COVID-19 world.
What do you think is the biggest lesson that the industry will take away from the COVID-19 crisis?
---
Learn from each other, hear industry professional's perspectives, and explore the tools and technologies available for airlines and airports to transform operations and thrive during and post the pandemic.