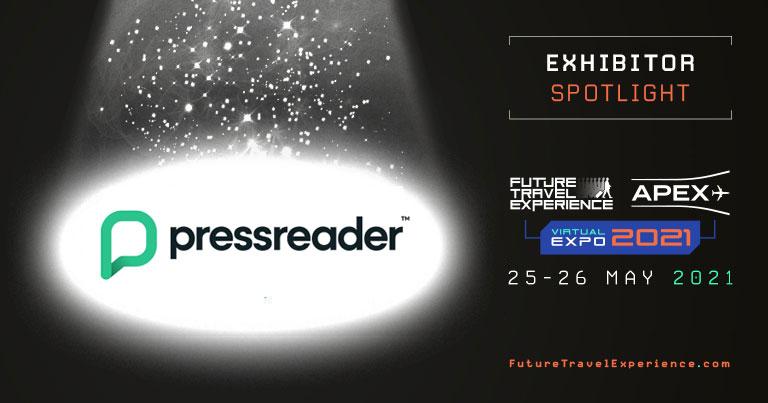 For over 20 years, PressReader has partnered with the world's leading publishers of newspapers and magazines to deliver content to millions of readers in every corner of the world.
With over 7,000 titles from more than 120 countries and in over 60 languages, PressReader is a contactless, digital amenity providing solutions to business aviation customers, commercial carriers and airport lounges worldwide looking to embrace sustainable and safe ways of operating, and seeking innovative partnerships to help enhance the passenger experience throughout their journey. Many of the world's major airlines already deliver an enhanced travel experience in partnership with PressReader.
What makes your products / services stand out?
---
At PressReader, we're on a mission to improve the way people discover stories that matter. With over 7000 high-quality publications from around the world, there's something on PressReader for every type of traveler.
Today, the world's major airlines are saving millions of dollars a year simply by switching from printed media to digital. PressReader not only reduces weight and fuel costs, it keeps passengers connected to the stories that matter to them – all in one app and on their own device.
By replacing print publications with digital, carriers can provide newspapers and magazines in a sustainable way that meets safety protocols, reduces operational costs, and offers premium content to add value to the passenger experience. Your passengers can choose from the largest and most advanced selection of digital publications from around the world, and can even download content to read on-the-go. This means delivering personalized content that is instantly translatable, searchable and easy to read on mobile devices.
PressReader works with leading brands in multiple industries, including libraries and academia, hospitality, aviation, marine, healthcare and banking, who build meaningful connections with their customers by sponsoring access to the world's best journalism.
What brings you to the EXPO this year?
---
Having successfully showcased PressReader at the FTE APEX Expo previously, we appreciate the excellent opportunity to connect with the FTE APEX audience and are excited to do so again. We want to show industry colleagues how PressReader has provided a safe and sustainable alternative to print publications and reduced operational costs for our valued aviation partners. We are excited to celebrate the accomplishments of others within the industry as well.
Each visitor will have the opportunity to experience the PressReader product, browse through our extensive collection of premium titles and understand the many benefits PressReader offers passengers. We look forward to discussing how our new partnership with Qatar Airways delivers a unique user-experience for their passengers, and how our partnerships with airlines like British Airways, Air Canada, Etihad Airways, Alaska Airlines, and other major airlines reinforces our commitment to providing safe and sustainable amenity.
FTE APEX is a great forum for industry professionals to ask questions, share and learn from fresh, innovative concepts, and be challenged by new ideas. It's also a chance to see many familiar faces!
Why should visitors come to your stand and what can they expect to see?
---
We invite visitors to visit us and connect with our team to learn how they can provide a contactless, engaging reading experience for passengers. After all, passengers are seeking more choices when they fly and PressReader offers airlines an opportunity to reward and give back to passengers for their continued loyalty. With over 7,000 publications from 120 countries in more than 60 languages, travellers can choose from a wide selection of top publications whenever they fly with you. Whether local, national or international content, PressReader connects readers to stories and publications that inspire, inform, and entertain. We offer your passengers a way to keep connected with news from home.
Great technology can help you improve your passenger experience: more personalization, simpler booking processes, awesome apps, and thoughtful surprises at every touchpoint. At our booth, we will demonstrate how our airline partners have embraced and implemented the PressReader product, offering it in their lounges, through app integrations, and through their IFE screens on board. Even before travellers head to the airport, they can enjoy access at home through check-in email reminders. The PressReader experience is yours to customize and we are excited to show you how.
What do you think is the biggest lesson that the industry will take away from the COVID-19 crisis?
---
The COVID-19 crisis has affected everyone, and the past year will long be remembered for its many challenges, especially the significant impact the pandemic had on travel and tourism. There are many lessons to take away from the past year: staying resilient and resolute were essential, along with the redefining, pivoting and reinventing of business models. We witnessed airlines using their fleet to coordinate repatriation flights from across the world, and we saw interiors being transformed into cargo vessels. It is that overnight quick-thinking and adaptability that will remain a valuable lesson for years to come.
Changes in approach to long-held business practices will remain essential. For example, companies were forced to redefine how they deliver news and information; not surprisingly, we noticed the swiftness in how contactless experiences were in and touchable/traditional processes became sidelined. Other noticeable differences included a shift in focus from providing luxury experiences to offering the safest environment for passengers and staff. One of the lessons that the industry will take away is to never become complacent. Even today, with new variants mutating, route maps and flights are being rerouted to accommodate government regulations.