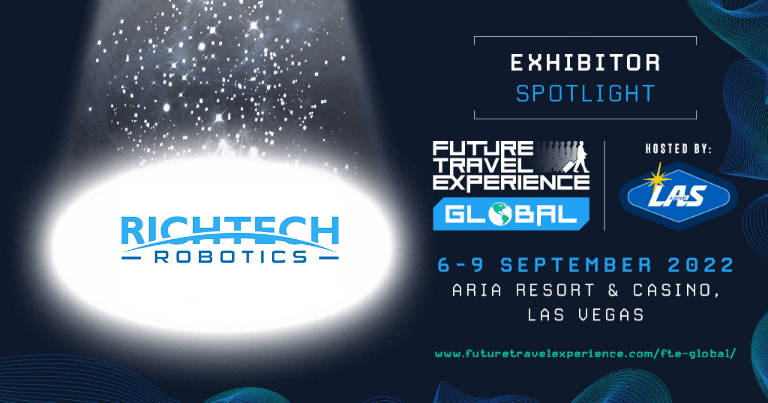 Richtech Robotics has been delivering cutting edge enterprise solutions to America's largest corporations for almost 20 years. We specialize in providing robotics solution for organizations across multiple industries. As a world leader in B2B enterprise solutions, we define ourselves through our commitment to our clients and endless drive for innovation. With partners in over 120 countries/territories around the globe, our goal is to enhance everyday lives and bring the world closer together.
What makes your products / services stand out?
---
We provide complete robotic solutions to organizations that generate revenue and create freedom. From hardware to software, excellent service and cloud analytics, we provide everything you need to automate your business.
What brings you to the EXPO this year?
---
As automation continues increase across all industries, we look to empower the future of travel with our robots. We are excited to create genuine connections in the industry, showcase our vast lineup of robotic solutions, and develop business partnerships for years to come.
Why should visitors come to your stand and what can they expect to see?
---
Visitors can expect to see the latest and greatest from our robotic solutions lineup. We will bring ADAM, our bartender/barista/boba tea making robot that generates revenue and provides an exciting customer experience. We will also bring our Matradee and Richie robots, which primarily function as a serving robots, but can also operate as mobile vending machines. Our DUST-E robots will be there to show their floor cleaning prowess. Finally, our friendly team will be there, and we're excited to meet you all!
What do you think is the biggest lesson that the industry will take away from the COVID-19 crisis?
---
The COVID-19 crisis created a new world that was unfamiliar for many. All businesses had to learn to adapt to meet changing demands. From that adaptation came innovation, and from innovation, we can learn more about each other. The biggest takeaway we learned from the COVID-19 crisis was the importance of having the freedom to be with your loved ones.