Future Travel Experience Europe 2016 will take place in Amsterdam!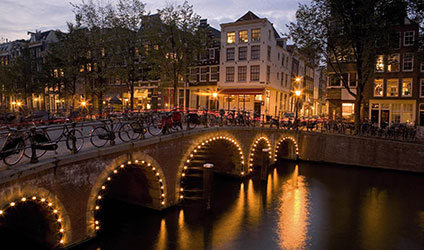 We are delighted to announce that Future Travel Experience Europe 2016 will take place at the Amsterdam RAI on 25-26 April 2016, ahead of the famous King's Day celebrations across the Netherlands on 27 April.
Over the last two years we have successfully established FTE Europe as a standalone event in London, but now is the time to move to a new location to offer our delegates a fresh and inspirational experience in a city with an outstanding passenger experience story to tell. Through working with our already confirmed event partners – KLM and Netherlands Aerospace Group (more partners to be announced soon) – we have no doubt the show will continue to grow significantly, and offer even more value and inspiration to participants and exhibitors.
Stay tuned for more details on the show, which will be announced in the coming months through the new-look FTE Europe website, which is currently under development.
In the meantime, if you wish to see the exhibition floor plan and receive more information, click here. You can also subscribe to our newsletter to receive the latest updates on FTE Europe 2016.
Future Travel Experience Europe 2015
London, 2-4 February 2015

In response to the overwhelming success of the first standalone FTE Europe event in March 2014 – which attracted almost 400 senior travel industry executives from 35 countries – we are delighted to announce that the event will remain in London, and is now confirmed to again take place at the downtown Park Plaza Riverbank London from 2-4 February 2015.
As Europe is such a competitive and dynamic continent, it absolutely deserves its own FTE show, and London is a great base for a dedicated European show thanks to the huge passenger experience innovations coming out of this region. FTE Europe 2015 will be even bigger and better, and will grow to accommodate a second conference stream that will focus on improving the passenger experience "Up in the Air", complementing our traditional focus "On the Ground". This will ensure that the show is in keeping with the renewed core focus of FTE, which is to provide independent future thinking on how travel industry stakeholders can redefine the end-to-end passenger experience.
FTE Europe 2015 will deliver a memorable learning and networking experience to the expected 550+ senior travel sector executives from Europe and beyond, who will enjoy a unique event programme consisting of workshops, two conference streams, keynote speakers, an extensive exhibition, social events and exclusive airport tours led by the senior management of our partner airports and airlines.