Future Travel Experience Europe 2014 has taken place
We would like to thank everyone who supported the event in London. Next year's FTE Europe show will return to the Park Plaza Riverbank London, 2-4 February 2015.
Keep up-to-date with all the latest event announcements as well as the latest news on enhancing the passenger experience by subscribing to our newsletter.
Don't miss our flagship annual event – FTE Global 2014, Las Vegas, 24-26 September 2014
FTE Global 2014 will be hosted by McCarran International Airport and takes place at the Mandalay Bay Hotel, Las Vegas. The event promises to deliver an outstanding learning and networking platform through workshops, conferences, airport tours, social events, the FTE Awards ceremony and an inspiring exhibition programme. For more details please click here.
Future Travel Experience Europe 2014
We are delighted to announce that Future Travel Experience Europe 2014 will take place in London from 3-5 March 2014. Delivered in partnership with Heathrow Airport, British Airways, Gatwick Airport, London Stansted Airport, easyJet and London City Airport our goal is to help airlines, airports, handlers, cruise operators, government agencies, rail authorities, destination partners and industry providers make the best possible decisions regarding the evolution of passenger and baggage processing methods, terminal facilities and other offerings relating to improving the overall passenger experience.
The reason we have decided to stage our first independent European event in London is because we believe it is this European city's airports and airlines that are doing the most to truly improve the passenger experience within. Following the Olympics, change of ownership among the London airports, and healthy competition between airlines inspiring innovation, there is a unique story to share here, which we will complement with outstanding case studies and contributions from speakers around the world.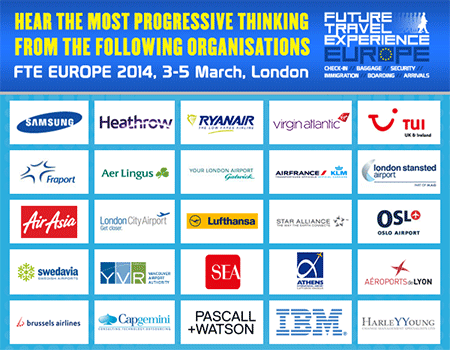 This is the second in our series of shows for Europe (and our 13th globally), following the highly popular first FTE Europe conference, which took place as part of ACI Airport Exchange, hosted by Schiphol Group in Amsterdam, in November 2012.
FTE Europe 2014 will deliver a memorable learning and networking experience through its theme 'Differentiating your passenger experience in the world's most competitive continent' and a unique event programme consisting of a conference, IATA Workshop, LHR T2 Symposium, exhibition, social events and airport tours.
To keep up with all the developments for our FTE Europe 2014 Conference & Exhibition, sign-up to our weekly newsletter.