Future Travel Experience Asia 2013 has taken place
We would like to thank everyone who supported the event in Hong Kong. Details of next year's FTE Asia show will be announced shortly. Keep up to date with all the latest conference developments as well as the latest news on enhancing the passenger experience by subscribing to our newsletter.
Don't miss our flagship annual event – FTE Global 2013 in September
FTE Global 2013 will be hosted by McCarran International Airport and takes place on 4-6 September 2013, at the Mandalay Bay Hotel, Las Vegas. The event promises to deliver an outstanding learning and networking platform through workshops, conferences, airport tours, social events, Awards ceremony and inspiring exhibition program.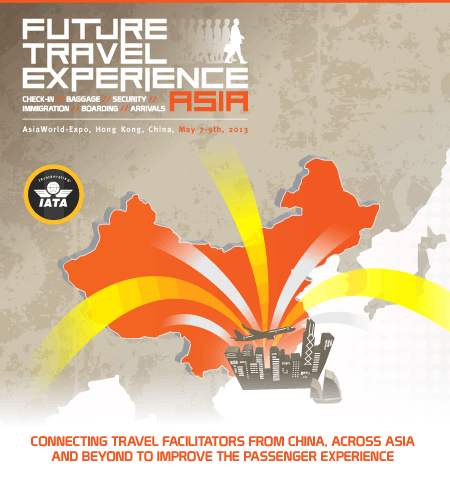 May 7-9 2013, AsiaWorld-Expo, Hong Kong, China
"Advanced processing strategies to
facilitate rapid passenger growth"
We are delighted to announce that the third Future Travel Experience Asia event (and our 11th globally) will be taking place in China for the first time at AsiaWorld-Expo, Hong Kong.
Delivered in partnership with IATA, ACI Asia-Pacific, Hong Kong International Airport (HKIA), Cathay Pacific and Dragonair, our goal is to stage an exciting conference, exhibition and social programme developed for travel industry stakeholders across the Asia-Pacific region and beyond. FTE Asia 2013 will help airlines, airports, handlers, cruise operators, government agencies, rail authorities, destination partners and industry providers make the best possible decisions regarding the evolution of passenger and baggage processing methods, terminal facilities and other offerings relating to improving the overall passenger experience.
We aim to provide real inspiration on innovative new approaches in this field, and uniquely create dialogue between ALL stakeholders through this unique forum. In addition, we will truly engage China with the world's leading travel facilitators using Hong Kong and HKIA as the unique bridge between all parties involved.