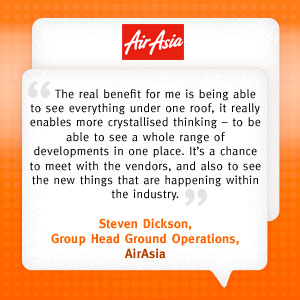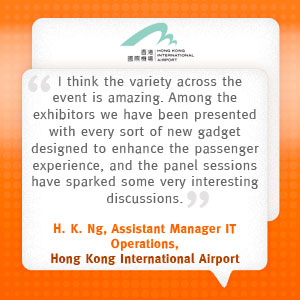 Viewing demonstrations of the latest technologies and services relating to passenger and baggage processing is a key requirement to understanding the latest developments in this subject area, which is why Future Travel Experience Asia will also have the largest exhibition of passenger-focused technologies and solutions ever staged in Asia with dedicated areas for both 'On the Ground' and 'Up in the Air' innovation. Air traffic in the Asia-Pacific region is growing at a phenomenal rate, which is why airports and airlines are expanding their facilities and operations faster than any other continent in the world. In line with these expansions, there are also great efforts being made to enhance technologies and practices to improve the passenger experience.
Future Travel Experience Asia 2014 Floor Plan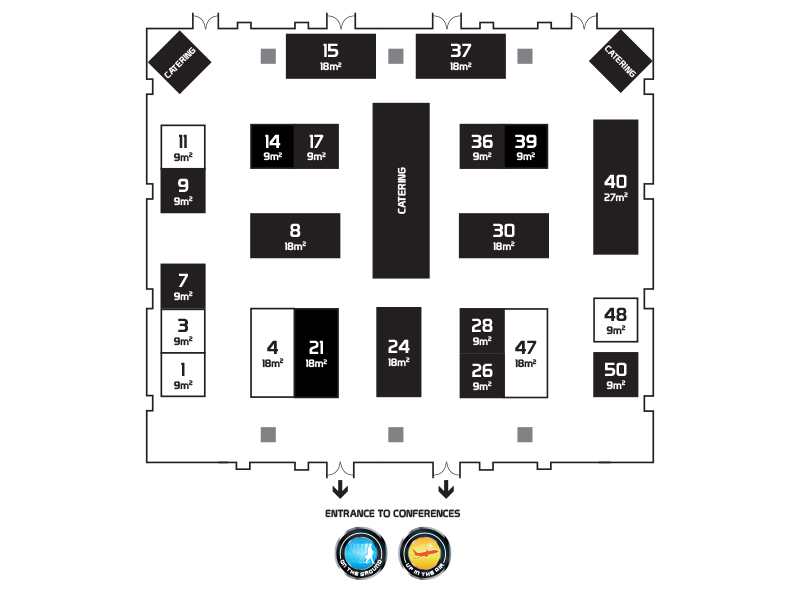 Exhibitors confirmed for FTE Asia 2014
| Access (26) | AirAsia (15) | Arinc (24) | Boon Edam (30) |
| --- | --- | --- | --- |
| | | | |
| Custom Engineering SpA (39) | Damarel (36) | Elenium Group (40) | Gunnebo (28) |
| | | | |
| ICTS (14) | IER (21) | Kaba (37) | Lincom Soltions |
| | | | |
| Maxworth (7) | OKI (9) | PrehKeyTec (17) | SITA (8) |
| | | | |
Key reasons to exhibit and sponsor at Future Travel Experience Asia:
BOOK YOUR STAND
To be part of this exciting exhibition please contact:
Ben Whibley
Head of Exhibitions and Sponsorship
Tel: +44 1293 783851
Alternatively click here to fill out an enquiry form and we will contact you.
It's the only dedicated gathering for Asia-Pacific travel industry stakeholders to exclusively address improving the passenger experience by covering the key touchpoints, including Pre-travel, Check-in, Validation, Baggage, Security  Facilitation, Passenger Assistance, Gates, Boarding, Up in the Air, Immigration, Arrivals and Post-travel.
We expect over 400 inquisitive decision-makers from airports, airlines, handlers, security and immigration agencies, consultants, planners, hotels and cruise operators to attend this event. These delegates will be looking to implement new processes to improve the passenger experience and are very interested in the latest offerings on the market.
Welcome Reception, breakfasts, lunches and coffee breaks all take place on the exhibition floor.
Shell scheme, lighting, fascia board, power supply all included in the stand price.
Each exhibitor will get four places on the exhibition floor (including Welcome Reception and Gala Dinner).
All exhibitors will be heavily promoted in marketing material both before the event and on-site.
Exhibition Testimonials:
"It was a very informative exhibition showcasing good products of the future. Some of the things we want to focus on are these relevant passenger products. There were good case studies of innovative practices from other airlines and I found the topics very relevant. It was interesting to see examples of collaboration with immigration services as well."

Masrini Abdullah, Manager Traffic Operations, Royal Brunei Airlines
"For us, Asia is a new market. We're well known in Europe and the US but we're new to Asia and we're extremely happy with the contacts we have now made at FTE Asia."

Lars Rosenberger, Business Manager, Airports & Airlines, Kaba
"The FTE events are very important to ARINC. We get a lot of excellent exposure here at the events, and all of our key customers are here in one place – all of the airports and airlines – so for us it is a very valuable platform to network and engage with our current customers, as well as new ones."

Mike DiGeorge, Managing Director, Asia-Pacific Division, ARINC
"We at Materna are trying to get into the Asia Pacific region and explore the opportunities within that market, and for us the event is useful in getting a feeling for the Asian market. At the FTE events you have a very good mix of people from the aviation industry so you get high quality networking opportunities, and it's really an irreplaceable experience in terms of the level and standard of contacts that are here, all in one place."

Reinhard Augustin, Sales Director Transportation, Materna
"It's always great to be able to see a lot of our clients together in one place, but its also important to see the interaction and the sharing of ideas that takes place between our customers – that's why, for us, attending FTE is so important."

Ilya Gutlin, President Asia Pacific, SITA