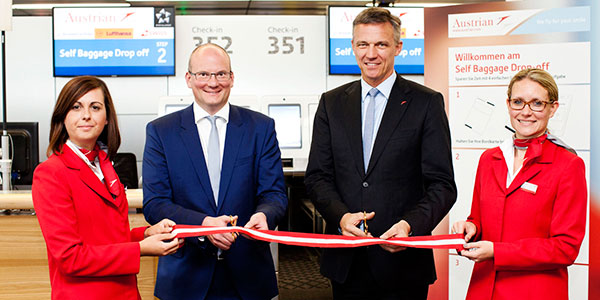 Austrian Airlines has started trialling four self-service bag drop units at Vienna Airport's Austrian Star Alliance Terminal Check-in 3. Passengers who have already checked-in for their flight can go straight to the bag drop counter where they can print and attach their bag tags, and deposit their luggage into the baggage handling system without any assistance from an airline agent. The Scan&Fly self-service bag drop machines have been supplied by Type22.
Karsten Benz, Chief Commercial Officer, Austrian Airlines, said: "With this step we are following the international trend. Many passengers want modern and quick check-in services, which are convenient and save time. In particular, frequent flyers and business travellers appreciate the possibility to start their journey without long waiting times."
While a definite timeframe for the pilot has not been revealed, the carrier has stated that it will continue for "several months", and customer feedback will play an important role in deciding if the solution should be implemented permanently.
Julian Jaeger, Member of the Management Board of Vienna Airport, added: "New services such as booking flights and checking in using the Internet, as well as the mobile boarding pass on mobile phones, have become indispensible in air travel. By testing the self-service baggage drop-off, we are offering passengers another way of completing the necessary travel formalities in a time saving manner, and also taking a new innovative step forward at Vienna Airport."