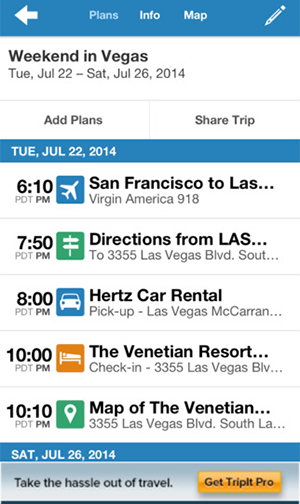 Auckland Airport has announced a partnership with TripIt from Concur, a travel organising app, as part of its efforts to help passengers simplify their travel experience through mobile technology.
TripIt allows users to organise and share their travel plans in one place, regardless of how many separate bookings have been made.
You can forward flight, hotel and car rental confirmation emails to a specified email address and TripIt then automatically creates a master itinerary, which can be viewed on any device. The TripIt Pro app also lets travellers opt in to real-time alerts.
Jason Delamore, Auckland Airport's General Manager of Marketing and Communications, commented: "We are really excited about this new partnership, which is a world first between an airport and TripIt, and an exclusive agreement here in New Zealand.
"The partnership will enable Auckland Airport and TripIt to share their insights and develop services for New Zealand and international travellers. It is part of a series of initiatives that Auckland Airport will undertake over the next few months to make the travel experience better for airport users, regardless of airline, class of travel or nationality."
Delamore said more details about how the partnership will benefit travellers will be revealed in the coming months.