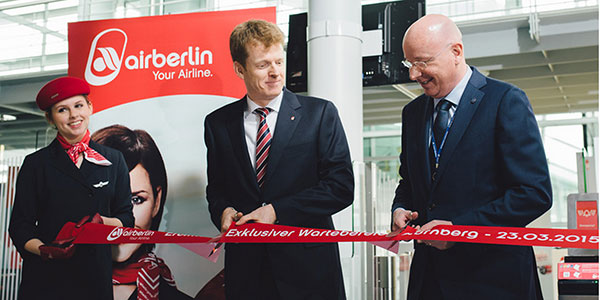 Airberlin has opened a new 'Exclusive Waiting Area' at Nuremberg Airport, where select passengers can take advantage of an array of new amenities. The 100sqm area, which is located near Gates 13 and 14, is open to Business Class passengers, topbonus members with Silver status and above, and passengers with a Flyflex fare.
They can make use of leather sofas, complimentary food and beverages, newspapers and magazines, and power outlets so they can charge their personal electronic devices before boarding the aircraft.
The German carrier currently offers similar facilities in Berlin, Dusseldorf, Cologne/Bonn, Munich, Hamburg and Vienna airports, and will open another at Stuttgart Airport later this year.
Airberlin's premium passengers flying from Nuremberg Airport can also use a dedicated Exclusive Parking Area, which minimises the walking distance from the car park to the terminal.