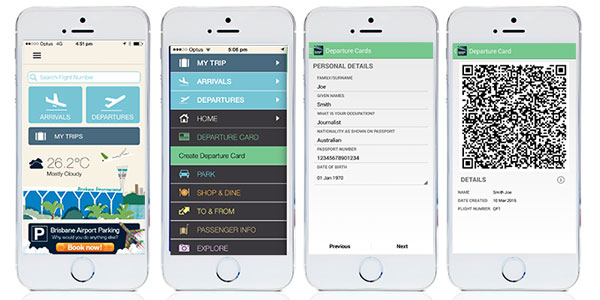 Brisbane Airport has started trialling a Digital Departure Card, which removes the need for international passengers to hand write the traditional Outgoing Passenger Card that is required for immigration purposes, and provides passenger identification and a record of a person's departure from Australia.
The Digital Departure Card is built into the Brisbane Airport app, and passengers can enter their personal information via their mobile device prior to their arrival at the airport, allowing them to save time in the terminal. The profile can be saved within the app, so the passenger doesn't have to enter the information every time they travel.
This information is then used to automatically generate a QR code that can be scanned and printed at dedicated kiosks in the International Terminal. The passenger must then sign the printed card and present it to a Customs officer during the departure process.
Julieanne Alroe, CEO and Managing Director of Brisbane Airport Corporation (BAC), commented: "We are fortunate to have a long association with Queensland University of Technology (QUT) and it was a team of QUT Interactive and Visual Design students who came up with the initial idea of digitalising the Departure Card process as part of a practical assessment.
"We are also very grateful of the enthusiastic support given by the Australian Customs Service and Department of Immigration and Border Protection, which both recognised the huge potential of this initiative. We saw great potential in the idea and with approval from the Department to proceed, BAC provided the capital and resources to develop the programme and necessary infrastructure, as well as ensuring all boxes were ticked from a practical, logistical and legislative perspective."