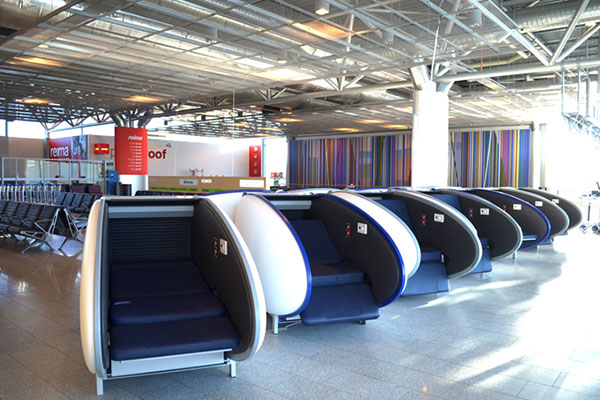 Helsinki Airport has invested in sleeping pods to provide transfer passengers with a dedicated space to relax or sleep while they wait for their connecting flight.
The GoSleep pod is an ergonomic seat that can be turned into a bed, and each one has a cover that can be pulled over the pod to isolate the user from the surrounding environment. Each pod has a power point so passengers can charge their electronic device, as well as a space for hand luggage to be stowed. The installation of the pods comes two years after Finavia trialled sleeping pods as part of its "rest area" trial at Helsinki Airport.
"We wish to provide passengers with an opportunity for stress-free travel and a nap between flights," said Heikki Koski, Vice President at Finavia. "Helsinki Airport has many transit passengers, who may not have had any sleep for a day or are suffering from jet lag. I believe that the service will have genuine demand."
A total of 19 sleeping pods have been installed and passengers can trial them for free at Gate 18. Pillows and blankets are also available to those who decide to take a nap.
The GoSleep pods are supplied by Finland-based Short Rest Solutions Ltd, and the company's CEO, Jussi Piispanen, explained that the previous pilot showed that passengers prefer individual sleeping pods than larger rest areas. "Based on customer feedback, we will continue to refine the service to make it even more customer-friendly," Piispanen added.