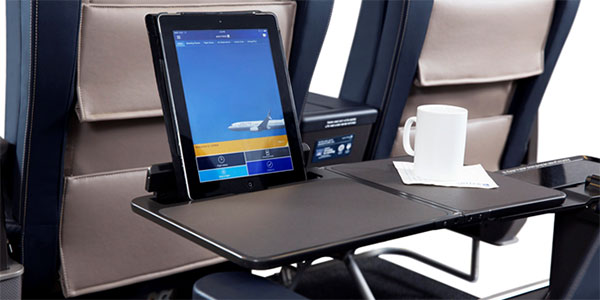 United Airlines has unveiled the new custom-designed seat that will be installed in First Class cabins on more than 200 of its narrow-body aircraft. The seat has just made its debut on an Airbus A319, and will be retrofitted on other A319s, as well as A320s, and Boeing 737s and 757s.
United has worked closely with PriestmanGoode on the development of the new seat, which offers a 21.1-inch width. It features a patented-design tray table with tablet holder, in-seat universal A/C power outlets, and seatback pockets and side stowage for laptops and tablets.
Other key features include a granite cocktail table, as well as an articulating seat bottom for greater comfort when reclining, and an adjustable headrest.
Tom O'Toole, United's Senior Vice President and Chief Marketing Officer, said: "This new seat is directly based on customer testing and feedback. We designed a custom seat that incorporates the features that today's passengers want."
The introduction of the new seat is part of a wider investment in improving the experience on narrow-body aircraft by United. Other notable upgrades include larger overhead bins, more in-seat power outlets, new carpets, and the installation of mood lighting.