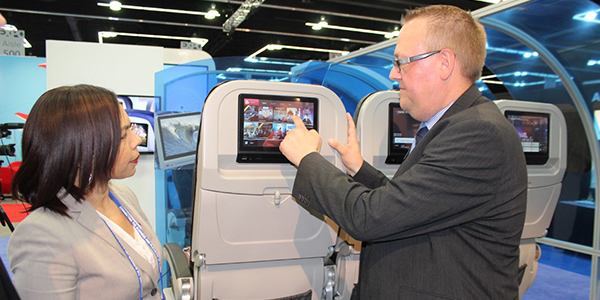 Caribbean Airlines has opted to install Lumexis Corporation's Fiber-To-The-Screen (FTTS) in-flight entertainment system, as it makes a significant upgrade to its "outdated" IFE offering on its Boeing 737 aircraft.
While flydubai was the launch customer for the FTTS system, Caribbean Airlines becomes the first carrier to also deploy FTTS Second Screen technology, which allows passengers to synchronise their personal electronic device with the embedded IFE monitor to enjoy a dual-screen experience and allow them to browse features such as F&B options without interrupting the movie they are watching.
Alicia Cabrera, Senior Marketing Manager, Caribbean Airlines, described the adoption of FTTS and Second Screen as a "milestone" for the airline. "I cant say how excited we are to partner with Lumexis," she said. "We can now offer our customers choice…they can really select exactly what they want."
Jon Norris, Lumexis' Vice President of Sales, explained that the FTTS system with Second Screen technology provides an ideal solution for Caribbean Airlines, especially on the longer narrow-body flights, such as those between the Caribbean and some major US cities. Referring to the embedded versus wireless IFE debate, Norris suggested the decision really comes down to the individual airline, how they want to position themselves, what routes they serve and their overall customer demographic.
Lumexis also announced at APEX Expo that it is the first IFE provider to implement the Android Lollipop (Android 5.1.1) operating system, the latest version of Android software from Google, which enables a range of new applications on the FTTS and iPax IFE systems.