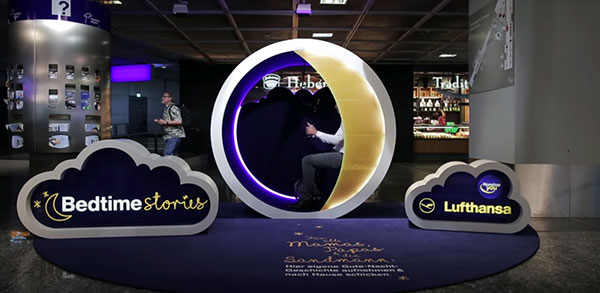 To help ease the emotional strain of being away from home on business, Lufthansa has unveiled its "Bedtime Stories" installation, a moon-shaped mobile recording studio that has been placed at the boarding gate areas in Frankfurt and Munich airports. Travellers can choose a bedtime story, record it in the studio and send it to their children at home via email or SMS. When the recipient clicks on the link, they are directed to the microsite, where they can stream or download the recording.
"Travelling is always an emotional experience: farewell and greeting, a change of place and culture, wanderlust and homesickness," said Alexander Schlaubitz, Head of Marketing at Deutsche Lufthansa AG.
"We want to make every passenger feel as though they are in good hands. The new Bedtime Stories installation continues the series of innovative and surprising ideas for our passengers. Popular among our passengers are the already-introduced, specially-designed family desks with small steps for our little passengers, or the colour printers, with which airport guests can print out personalised greetings for arriving passengers."
The carrier has teamed up with a number of publishing companies on the latest initiative, which also allows passengers to further personalise their story with a personal note and a photo. If time is running out at the gate, travellers also have the option of sending a pre-recorded story along with a photo.