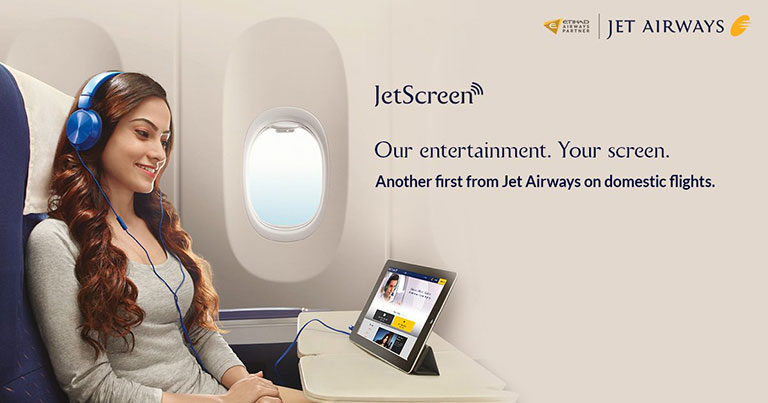 Jet Airways has launched its new 'JetScreen' IFE system, to offer passengers the ability to stream content on their own devices.
The airline has been working with Global Eagle Entertainment Inc. to bring this service to passengers. The library features over 225 hours of video and audio content, including leading Hollywood films and TV shows. In addition, there are games and children's programmes available. Passengers can also use the 3D flight tracker and access information about their destination.
Jet Airways sees this as the initial step before offering "fully-fledged, broadband-enabled Wi-Fi connectivity", which will give passengers the ability to browse the internet, send and receive email, access connecting flight information and more.
In order to access the JetScreen content, users need to download the Airtime Player application, connect to the JetScreen wireless network and then the content is available from the passenger's web browser.
The service has been introduced on five Boeing 737s and in the coming months will be gradually rolled out across the entire fleet.
Gaurang Shetty, Whole-time Director of Jet Airways, said: "In-flight entertainment is a key element of Jet Airways' full-service experience. Our selection of the best entertainment content across genres is aimed at enriching the in-flight experience of our guests.
"Streaming of content on personal devices has become extremely popular globally, and we are confident that this initiative will appeal to all our guests, especially the millennials who prefer to access content on the move."