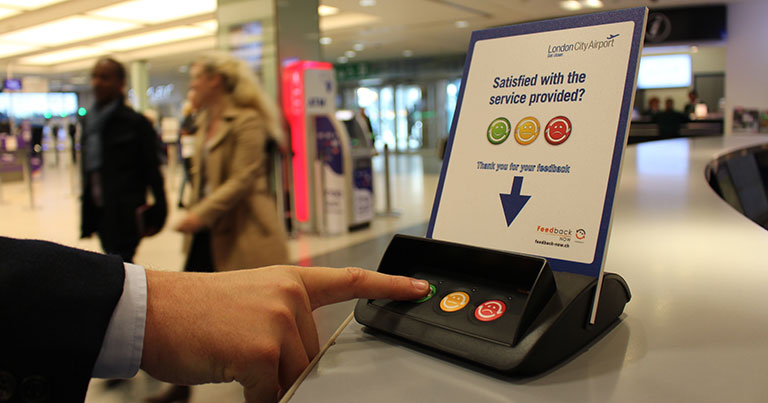 London City Airport has introduced a new real-time feedback system throughout the terminal, enabling travellers to rate the facilities and service using emoji-like symbols.
The airport's 'Feedback Now' system can receive real-time responses from passengers, meaning staff can make quick improvements if necessary. It uses three emojis to signify different levels of satisfaction.
In order to grade their opinion, passengers can use any of the 60 installed consoles across 16 areas of the airport. Consoles are located in checkpoints including the security search zone, passport control and baggage reclaim, along with other areas such as information desks and toilets.
The system also supports proactive alerts. For example, if several travellers in the toilets press the 'dissatisfied' button within a short space of time, cleaning staff will get a text message alert.
Melanie Burnley, Director of Customer Experience at London City Airport, said: "As we continue to welcome record-breaking numbers of passengers through London City Airport, the real-time Feedback Now system will help our terminal team focus their efforts in the right places at the right time to give the best customer service possible.
"Whereas other airports have customer feedback systems, most of these have a 24 hour delay. We are the first UK airport to receive the data as it happens, meaning we can use the technology to respond quickly and ensure the great customer experience, efficient check-in and arrival, and speedy security is maintained."