This weekend – 21-22 December – is set to be the busiest period of the festive season for airports. With queues expected to lengthen and stress levels among passengers likely to rise, a number of airports around the world have embraced the Christmas spirit to keep passengers entertained while they wait for their flights. Here we highlight a few of our favourites.
Singapore Changi Airport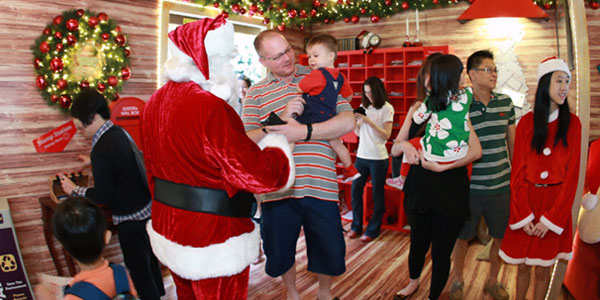 Passengers travelling from Changi Airport's Terminal 3 have no need to put Christmas on hold until they arrive at their destination thanks to an extravagant Christmas village, which includes Santa's log house, where parents can bring their children to see Santa. Across the airport, huge topiaries of famous worldwide landmarks have been installed, ranging from The Leaning Tower of Pisa to the Colosseum in Rome. At each of these displays, passengers can read information on the respective destination.
Also, to keep young travellers entertained, the airport has adopted a SpongeBob SquarePants theme –complete with an 11-metre high Pineapple House. Singapore's biggest inflatable playground has also been installed in the terminal for young flyers to play on while they wait to depart.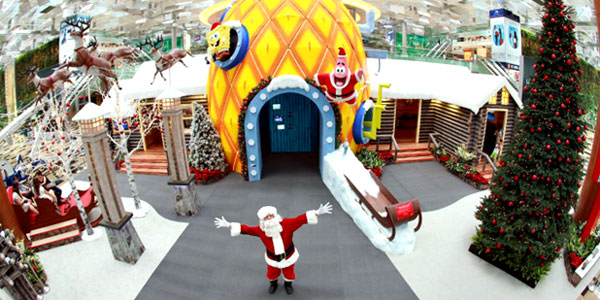 A number of performances are also being held across the airport to keep passengers feeling festive. Roving carol singers and stilt walkers are on-hand, while the Ministry of Bellz will attempt to break a world record on 21 December by delivering a 24-hour hand-bells performance.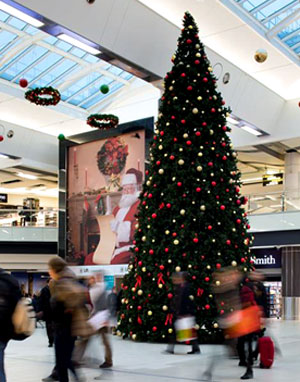 London Gatwick Airport
FTE Europe 2014 event partner London Gatwick Airport is expecting around 2 million passengers to travel through the North and South terminals this holiday season, and a number of initiatives have been planned to ensure the airport experience doesn't dampen passengers' festive cheer.
Already this week, the Gatwick Airport choir, The High Altitunes, has been singing Christmas carols in the South Terminal, and over the coming days passengers will also be able to experience a performance from The London Gospel Choir, children's storytelling, a Michael Bublé tribute act and complimentary mince pies.
The volunteers that were used during the London 2012 Olympic and Paralympic Games to assist passengers during their time in the airport have also made a return for the busy Christmas period.
As we mentioned in our recent article focusing on low-cost innovations to improve the airport experience, elsewhere in London, Heathrow Airport is also offering passengers a festive environment, complete with storytelling, craft sessions and appearances from Santa and his elves.
Cathay Pacific and Hong Kong International Airport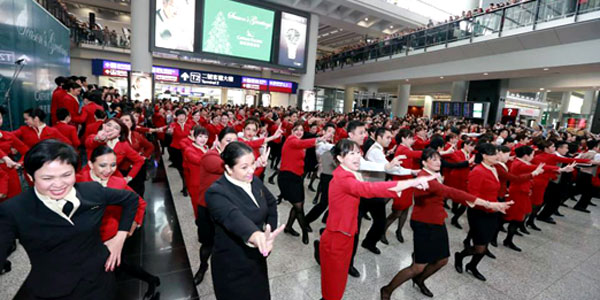 At Hong Kong International Airport last week, Cathay Pacific sprung a surprise as 300 ground staff, cabin crew and pilots carried out a flash-mob dance routine in the terminal, while the airline's own choir sang Christmas songs to entertain passengers. Hundreds of passengers gathered around to watch the performance, which as well as adding an element of fun to the airport experience, raised money for the Operation Santa Claus charity.
Munich, Frankfurt and Düsseldorf airports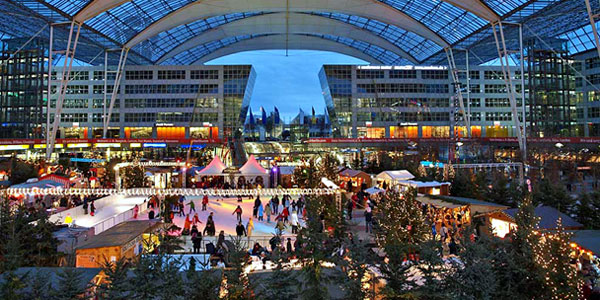 Christmas wouldn't be complete without a visit to a traditional German market, and passengers travelling through Frankfurt and Munich airports will have a chance to pay a visit to one as part of their travel experience. At Munich Airport Center, 50 Christmas stands, 300 real Christmas trees and a 15-metre-high giant tree have been installed, along with an ice rink.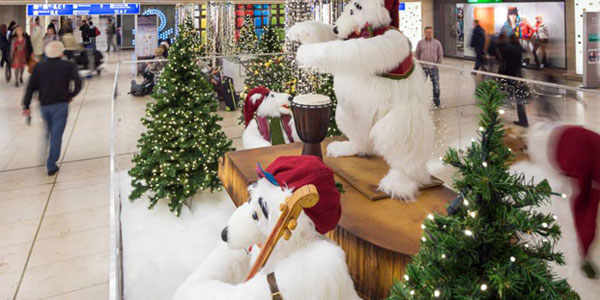 Meanwhile, at Frankfurt Airport, the terminals have been decked with trees and lights, and a team of Santas is roaming the airport greeting travellers and handing out free treats. Passengers can also enjoy live music, carol singers, orchestral string performances and a street organist while they are waiting at the gate.
Elsewhere in Germany, Düsseldorf International Airport has decorated its passenger terminal with more than 40,000 lights, 36 white Christmas trees, a huge centrepiece tree and a giant advent calendar.
Miami International Airport
In Miami, schoolchildren from a variety of Miami-Dade's leading performance schools are performing holiday songs at Miami International Airport through to 23 December to entertain passengers during their time in the airport.
Miami-Dade Aviation Director Emilio T. González said: "We are proud to host these talented young performers each December to provide some holiday cheer to our passengers. The holiday programme also gives them the experience of performing on a global stage in front of travellers from all over the world."
Virgin Atlantic Little Red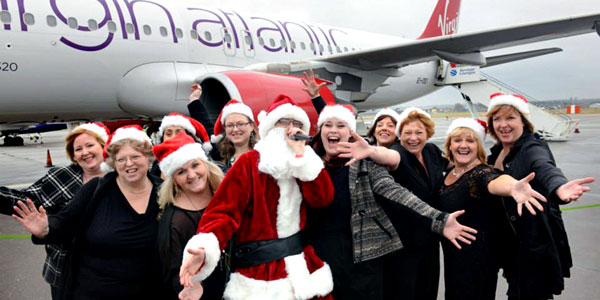 This may not be an 'on the ground' initiative, but it is certainly worthy of a special mention. Passengers flying with Virgin Atlantic Little Red last weekend were surprised with some live in-flight entertainment. As part of the ongoing, Little Red LIVE project, the Hip and Harmony choir treated passengers to some classic Christmas songs, before a beat-boxing Santa appeared to finish off the performance.
Every little helps
Due to the sheer volume of people travelling by air during the holiday season, passing through airports can be a stressful experience, which is why we are delighted to see so many airports embracing the festivities and doing everything possible to make the airport experience as enjoyable as possible. While these initiatives may not help to shorten queues or conquer delays, they can certainly help to cheer up those passengers who may otherwise see the airport merely as an obstacle to their festive celebrations.