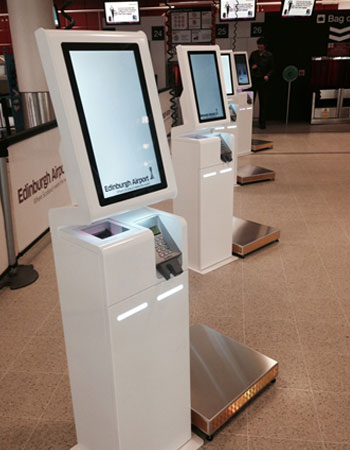 Edinburgh Airport has installed 10 common use self-service bag drop units, which can be used by passengers travelling with easyJet and Flybe.
The SONIC kiosks, manufactured by Phase 5 Technology, have been installed permanently following a trial at the airport last year. Using touch-screen and thermal printing technology, passengers can weigh their bag, print and attach their bag tag, and deposit their bag into the baggage handling system without any assistance from an airline agent.
The adoption of the system makes Edinburgh Airport the first in the UK to use web-based software to operate a fully common, shared bag drop facility.
David Wilson, Chief Operating Officer at Edinburgh Airport, commented: "New ownership has allowed us to be creative in the way we look at the check-in process. A huge amount of research, engagement and investment has gone into this new process and we're delighted to officially launch the first multi-airline common bag drop facility in the UK with our partners at easyJet and Flybe.
"We're working hard to make the passenger experience the very best it can be and our new bag drop facility is just one of a number of exciting projects launching this year."
Lawrence Eke, Managing Director, Phase 5 Technology, added: "We're delighted to be working with Edinburgh Airport to improve its passenger processing capabilities. The 10 SONIC self-service machines which have been installed offer passengers a simple two-step 'scan and tag' service, allowing them to process their own bags in as little as 20 seconds and with little or no assistance from airline staff."